Italy thru fresh eyes / Chasing the sun in March
I decided to go to Italy for my spring trip for three reasons: first, well it's Italy; I really didn't need any other reasons. But two, I found a great fare from my local airport to Milan, and three, I wanted to continue my 'research' on Italy in the 'off' season. I have been going to Europe every summer for about 15 years, always in the month of July, but some day I'll be done with work and will be able to travel whenever I please, so am always looking for places where it will be 'nice' when it's not 'nice' where I live (the US northeast).
When I told my friend Crista about the trip she decided to come with me. She's never been to Italy and only once to visit a friend in Scotland so a real 'newbie'. Our original plan was going to be Venice, Florence and Lake Como, but by mid week the forecast for Milan/Lake Como was rain so we made a last minute switch to Rome for a couple of days. Thus we ended up doing the itinerary that is so often posted on travel forums from newbies and mostly shot down by those of us 'in the know': 8 days Venice, Florence, Rome, Milan.
Crista only had time for 8 days but I had an additional 5 days for day trips from Milan. I did Pavia, Genoa, Lake Como, and Lake Lugano. The last day I stayed in Milan.
Part 1: The "Classic" One Week in Italy: Venice, Florence and Rome
We did all the things that many people (myself included) advise against. We flew in and out of Milan even thought that wasn't our destination. We tried to 'see' three major Italian cities in a week and took trains from Milan to Venice, Venice to Florence, Florence to Rome and Rome to Milan. Phew. Sounds like we'd spend all our time in trains and the whole thing would be very rushed. Well, I'm here to say it actually wasn't and Crista said she never felt rushed and loved it. So I think I'll be revising the advice I give people from now on.
It was a fast pace, no doubt about that. Crista walks a lot faster than most people, and doesn't 'require' a lot of time to see things. For many people this wouldn't be a very satisfying way to travel. She did a fair amount of "OK, what next?" and I'd say, "THIS IS what's next – we're here, just look around you". Had to explain what a 'passeggiata' was and why doing that is fun. But everyone is different and goes at a different pace. This was my 13th trip to Italy, I'd been to Venice 5 times, and Rome 7 times (Florence only once before) so I was really just enjoying seeing things through her eyes and playing tour guide. Crista is a very smart, highly educated woman, but she had a pretty terrible grasp on geography and history and did zero research. I do such extensive research before trips (including reading novels set where I'm going, watching movies that took place there, etc.) that my husband says it's almost 'too much'. But my advice to new travelers will continue to be to at least read a good general guidebook before you go anywhere so you know what you're seeing. And listen to us experience travelers when we tell you to stamp your train ticket before you get on!
Arrival Day - Saturday, March 18 [Sun and clouds, 60s] - We arrived only 20 minutes late into Milano Linate. Crista's bag, which AerLigus made her gate check in Dublin, saying it was too large, arrived quickly. (BTW – last time I flew AerLingus to Italy they made me gate check my bag as they said I had 'two' pieces – this time they said nothing about my bag plus 'personal item' and it was the exact same two pieces - which goes to show it's a crap shoot what is and is not OK). Anyway, her bag came through right away and we were outside, having bought our bus tickets to Milano Centrale, just before noon. I asked a man standing by the sign if the bus was the right one (it looked different) and he pointed and said yes. But we almost got on it and it was going to Slovenia!!! Turns out he was pointing to the space in front of that bus where the right one was about to arrive – fortunately he saw us and told us. We got to Centrale just about 12:45 so good thing I booked the 13:40 train and not the 12:40 as we would have just missed it. We had time to get a Panini and coffee and got to Venice just after four.
I had stayed at the Palazzo Odoni just last July – loved the hotel and didn't even consider looking for anyplace else. It's in the Santa Croce district, about 10 minute walk from the train station or Piazzele Roma, on a quiet canal, in what is – for Venice – an 'un-touristy' area. So what for most first timers – finding the hotel you booked – can be difficult when you are tired and jet-lagged, was for Crista just a short stroll since I knew where I was going. We were checked in and ready to head out by 5 for what we thought would be a short stroll to show her a few canals and find dinner. We ended up walking all the way to Piazza San Marco (and back). The adrenalin gets going and everything is so new and exciting. We were almost back to the hotel before we found a place we wanted to eat. I think there were actually mostly locals in there, and it was just a two-minute walk from the hotel.
Palazzo Odoni Entrance Courtyard
Palazzo Odoni - A 16th century palazzo that's been in the same family for generations, comes complete with antique furnishings, a very high quality breakfast (and a golden retriever).
Can you "see" Venice in one full day? Yes you can.
Sunday, March 19, 2017 [Sun and clouds, 60s] Great hotel breakfast – huge, delicious croissants, various meats and cheeses, fresh fruits (melon, pineapple, kiwi, strawberries, oranges, bananas), yogurts, breads, and of course cappuccino. After pigging out on that we walked to the train station and got a vapparetto day pass (€20 each) and took our first ride down the grand canal to San Marco with me pointing out most of the most important palazzos (at least the ones I could remember the names of). It was bright but overcast – no blue sky and the colors on the palazzos seemed really muted compared to summer. Crista was still duly impressed (though I don't think as much as I was my first time on the Grand Canal).
Grand Canal March 2017 (above)
Grand Canal July 2016 (above)
Passing under the Rialto Bridge I noticed that it's renovation was completed, the scaffolding of recent years gone, all very clean and white. We considered getting off to explore the market but decided it made more sense to get to Piazza San Marco and the Doges Palace before it got crowded and visit the Rialto market later.
The stone Rialto Bridge was the first permanent bridge across the Grand Canal. The central path is full of shops – mask, glass, bead and souvenir, as are the calle leading to the bridge from both directions. The fondamenta on both sides of the grand canal are filled with restaurants and hotels. The Rialto Market is the city's main source of fruits, vegetables and fish. The Rialto Bridge and surrounding area are the second most crowded in Venice, and while not quite as bad in March as in July, it was still pretty bad. I think cruising under it in a vaparetto is a much more enjoyable way to experience it than walking across it, but he view from the bridge is the quintessential Grand Canal View (if you can get close enough to the edge to see it).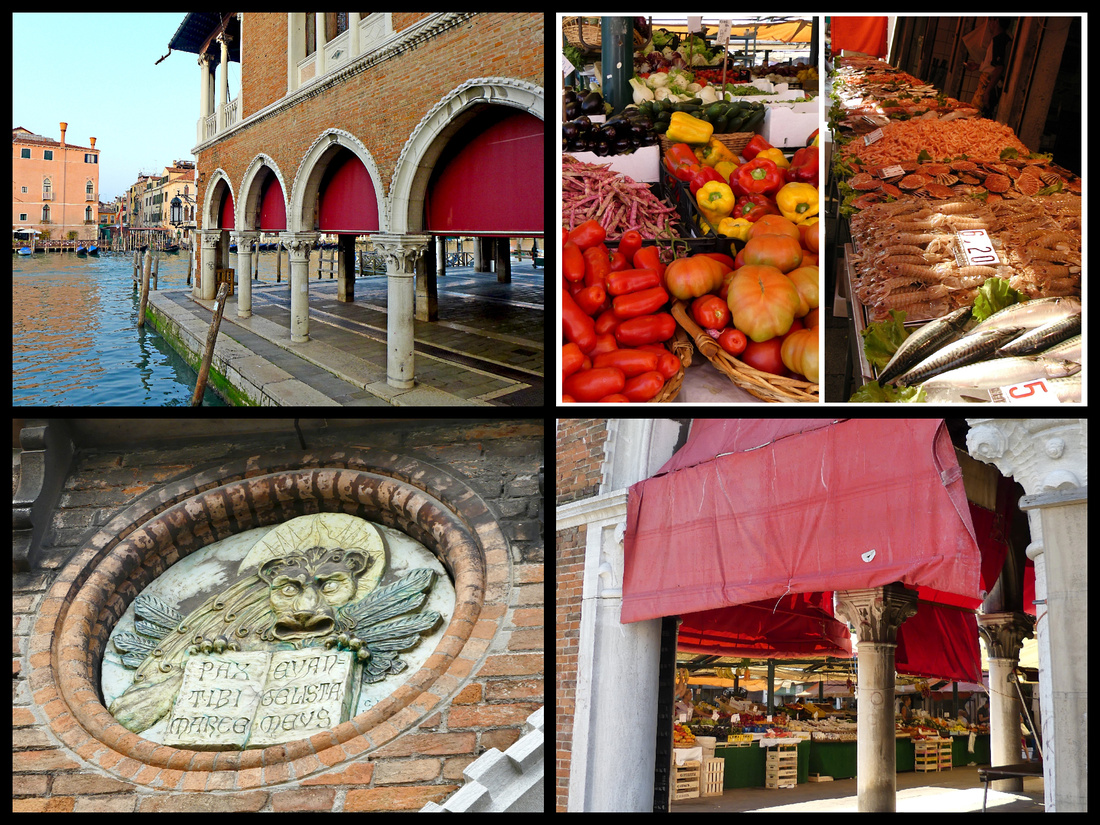 We got to San Marco about 9:45 (the ride takes just about 45 minutes).

Piazza San Marco is definitely the 'center' of Venice, one of the most famous squares in the world, much larger than any other in Venice, and the only one to be called a 'Piazza" - all others are 'campos' or 'piazzettas'. At one end sits Basilica San Marco, one of the most famous buildings in the world. The Basilica was built in 1063 to house the remains of St Mark the Evangelist. The façade is a mix of east and west. The
 doorways are massive European Romanesque.
The mosaics are mostly Venetian designs but
 executed by Greek craftsmen. There is sculpture 
from Constantinople, columns from Alexandria,
and Capitals from Sicily. The upper story has 
Gothic style arches and the whole thing is 
topped by Greek domes with onion shape caps.
However, it comes together in a bizarre sort of 
harmony. It is simply the most unique church in
 Europe, which as Goethe said "can only be compared with itself".
The Piazza is rectangular, but opens wider at the basilica end, enhancing the perspective and creating the illusion of being even larger than it is and flanked on three sides by arcaded buildings of apartments known as "Procurazie," once the official residences or offices of state ministers and now full of shops and cafes. In the summer the outside tables are full, and in the evening bands play at three of them. On this March day most of the tables were empty.
Piazzetta San Marco – is the smaller square between Piazza San Marco and the lagoon, with the Doges Palace along one side. Two granite (Egyptian) columns topped by Venetian-Byzantine capitals stand at the entrance to the piazzetta. One supports the famous statue of the winged lion of St Mark, the symbol of Venice The other column bears a statue of St. Theodore and his dragon. I believe there was a third column that fell off the boat as it was being delivered and still sits at the bottom of the Grand Canal.
The Doges' Palace is a Gothic Renaissance building begun in 1173 which integrated walls and towers of an AD 810 castle, beautifully carved in pink and white marble. Architecturally, the Palazzo Ducale is a unique mixture: the style of its exterior, with its geometrically patterned stonework and continuous tracery walls, can only be called Islamicized Gothic, whereas the courtyards and much of the interior are based on Classical forms. It is one of the finest secular building of its era in Europe, and the central building of Venice.
The line for the Doges Palace was about 10 minutes long.
Inside is a beautiful arcaded courtyard and finely sculpted grand stairway. Once the private home of the Doges (Venetian ruler elected for life), it is today a museum filled with art treasures, including Tintoretto's "Paradise", one of the largest paintings in the world, in the huge "Sala del Consiglio" where the city parliament met. Room after room of incredible wall and ceiling paintings and carved wood. We spent about 2 hours there and neither of us felt rushed or that we wanted more time. I do have one friend who said she spent 5 hours but you'd have to examine every single thing to do that. Another friend went on a (high end private) tour and said they were in there less than an hour. So I guess we were going at 'average' speed.
The best part was the prisons and walking through the bridge of sighs. The prisons were both more extensive and larger (and nicer) than I expected. Ponte dei Sospiri (Bridge of Sighs) connects the Doges Palace to the 16th Century Prigioni Nuove (new Prison). Those condemned to death had to pass over it on their way into the prison and back out again to be executed in the Piazzetta San Marco. The bridge was built in 1600 by Antonio Contino, and takes its popular name from the sighs of the prisoners who shuffled through its corridor.


I'm glad I finally saw it, but I'm also glad I didn't have to wait 2 or more hours in line in order to do it. And I don't think it was a 'highlight' of Venice
At that point, now about 12:30, the line for the Loggia Museum in San Marco was about 10 minutes long. Nice views of the Piazza and the Piazzetta. The museum essentially consists of the loggia (with the fabulous views) and close ups of the horses (both the ones outside and the originals inside) and of the mosaics of the church.
Coming down from the loggia you entered the church itself, which was illuminated for the mass. We were allowed to walk around the sides, just roped off from where the parishioners were sitting. I think it would be much less impressive to tour the Basilica when it's not illuminated (which is most of the time). It was a Sunday and there was a mass going on; the incense and the singing really added to the experience. So on my fifth trip to Venice I finally did what most people do on their first trip. Actually on my very first trip, which was 17 years ago, we did go inside the Basilica but it was not illuminated and therefore very dark.
Then we headed back behind the Bridge of Signs (the Castelo district) as I was looking for an old church with nice cloisters (St Apolonia). Took forever to find it despite it being literally behind the Bridge of Sighs. I had been there, I had a paper map, and we had the phone map and we asked two different people and it still took half an hour. That's the fun of Venice. When we did find it, it was closed. Oh well, had a nice lunch with our 'intro to Venice' Bellini's.
After exploring around San Marco we took the vaparetto as far as S. Toma and walked to the Ca'Rezzonico. (included on the Museum Pass with the Doges Palace – along with ten others which we didn't have time for). Ca'Rezzonoco is an impressive palazzo filled with three floors of 17th and 18th century Venetian art. But we got over dosed on it after an hour or so. (The friend that spent 5 hours in the Doges Palace spent 3 hours here). Some nice views from the upper floors. Then we walked the rest of the way back to the hotel, got lost of course, but isn't that the charm of Venice.
After an hour or so we decided we needed to make use of the remaining daylight and vaparetto pass so took another ride down the Grand Canal. This time we got front row seats! Just as we were leaving the train station stop a couple of boat ambulances whizzed in and took someone from the stop in front of us. Interesting to think about water ambulances. Second time we had an ambulance incidence on this trip. (first one was on the plane).
It was cool but sunny as we started but as we approached San Marco the fog literally rolled in. You could see (and feel) it rolling in. It was quite interesting. But would I choose the Grand Canal with front row seats, cold and fog – or crammed in like a sardine but with bright sun shinning on all those palazzos. I think I pick the sun.
Anyway, great views, but it was pretty cold. So we ended up eating dinner just past Piazza San Marco. A guy standing outside a restaurant as we paused to look at the menu started talking – in flawless English. He was 'Venecian-American' – from NY. Said his hospital on 18th street was now condos. I said the one I was born in was also condos. I had almost the same conversation (minus the hospital part) with a guy we dubbed "Mr Astoria" in Chania, Crete last summer. Apparently middle-aged men who have lived for most of their lives in the US are moving back to the homeland and working in the tourist trade. But he was nice and we were cold so we went in. The food was OK and they gave us free prosecos 'since we were from NY'. Sure. After dinner it was cold and most of the stores were closed so we took the vaparetto back. It was cold and foggy but that made for really interesting light.
So – that's what you can accomplish (and still have fun) if you move fairly quickly and you have someone with you to show you where to go (or have done your research). We did three and a half rides on the Grand Canal, 4 major sites (Doges Plalace, Basicila San Marco interior, Loggia Museum, and Museum Ca'Rezzencio), walked all the way from the train station end to Piazza San Marco and back, and had sit-down dinners and lunch. Did a bit of tourist shopping. And did not feel at all rushed. The whole of Venice is a UNESCO World Heritage Site so just wandering along the back canals and riding the vaparetto down the Grand Canal is really enough to make a trip to Venice worthwhile, and to know that you have seen it. Adding a couple of museums and the Basilica and the Doges Palace were just icing on the cake.
Monday, March 20, 2017 [Sun and clouds, 60s] On our other full day we spent the morning going to the Rialto market (bit of a disappointment, it wasn't a 'fish' day so just produce) and then did a half day trip to Vicenza – partly to see a smaller town but mostly because Crista wanted to go to Jazzercise. She's an instructor and it's a 'thing' for jazzercise instructors to visit classes when traveling to foreign countries. She did it in Scotland last year. So she had made arrangements with Lucca of the Vicenza studio. I had been in Vicenza as a day trip quite a few years ago and remembered it as very, very quiet, pretty enough but not as interesting as other towns in the area such as Verona and Padua (and Mantua, Ferrera, Treviso). And it was the same this time. We were there on a Monday and lots of things were closed. We did a walking tour of the palazzos that the TI office gave out, and had some really good gelato but 3-4 hours was plenty. Crista went to her Jazzersize class and I went back to Venice.
Vicenza - The small city less than an hour from Venice, was home to Palladio in the 1500s, who, after studying architecture in Rome came here and developed the style named after him. Today the city, one of the wealthiest in Italy, is a living museum of his buildings and thus a UNESCO World Heritage Site.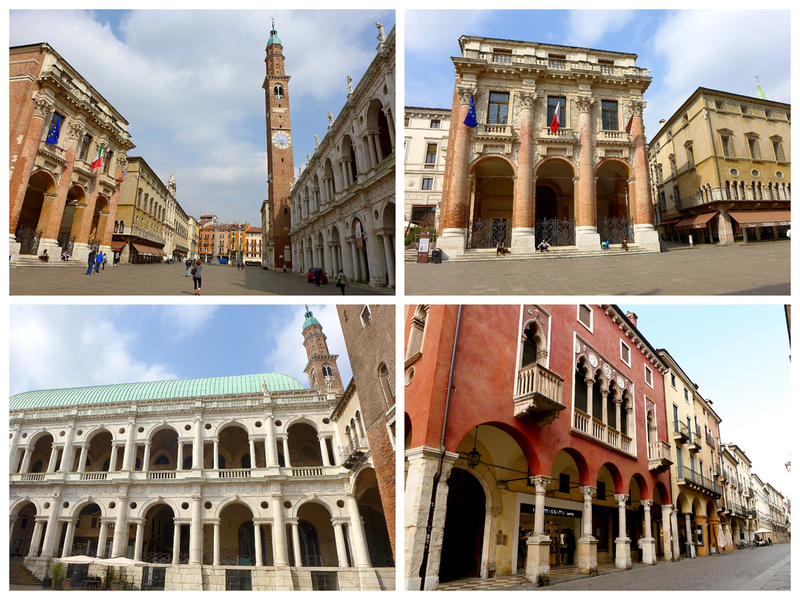 Left top: Piazza dei Signori, dominated by the most awesome of Palladio's creations, the Basilica Palladiana (bottom left) , also known as the Palazzo della Ragione. Top right Opposite the Basilica is the Loggia dei Capitaniato designed by Palladio in 1571 to replace the medieval residence of the "Capitanio", the Venetian Captain in Vicenza. Bottom right: Corso Palladio, home to many of the city's grandest palazzos.
Vicenza - Top left: town gate and Torre Bissara, Top right: Palladian Loggia Valmarana in the Giardino Salvi
Bottom left: Palazzo Porto Breganze, designed by Palladio. Bottom center and right: Duomo
Back in Venice I walked from the train to Rialto (got lost a few times, but an area I had not explored – much more residential. Once large campo was full of locals having aperitifs or coffee and kids playing soccer, roller skating, dogs playing. Then to Piazza San Marco. Got a small pannini for dinner, ate while walking. Don't do that in Piazza San Marco, a sea gull literally nipped at the food in my hand! The main 'street' between the Rialto and San Marco is like a mall with chain stores, including Disney, Benneton, Prada, etc. Managed to get back to the hotel from San Marco without getting lost – first time I did that! It took just over half an hour and about 2500 steps/1 mile (according to fitbit). But I was walking fast, not strolling.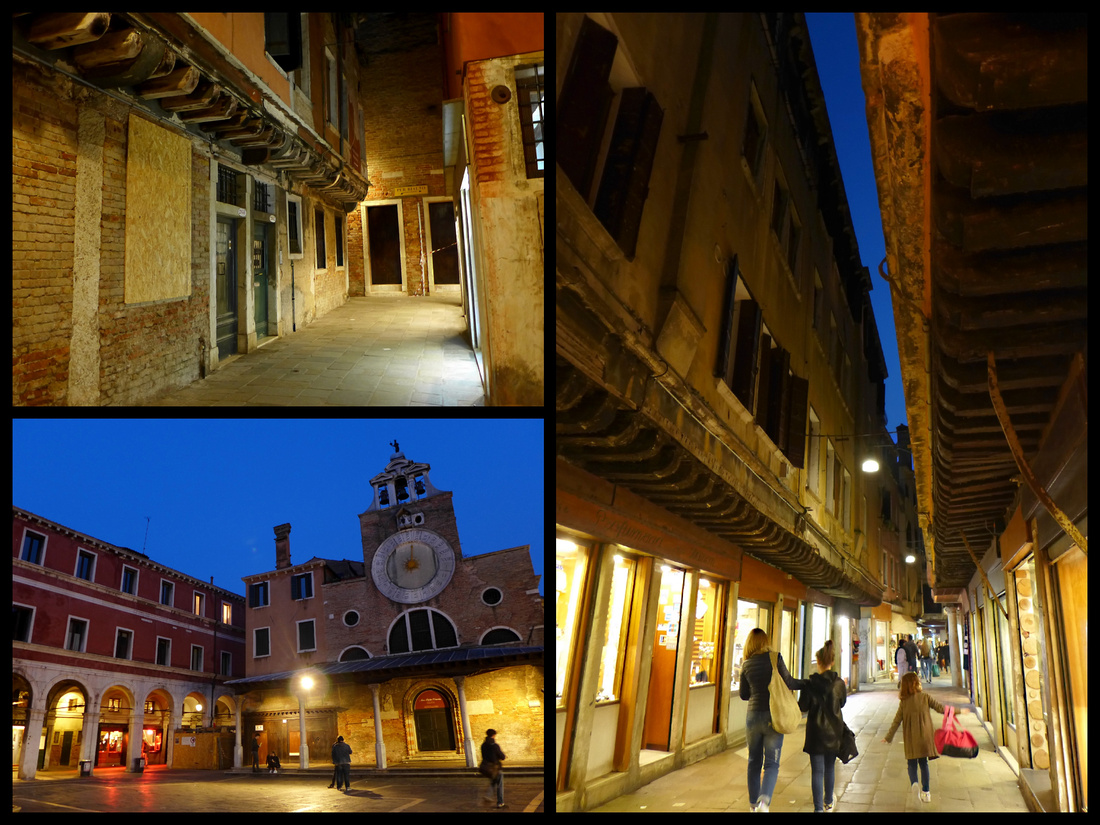 We checked the weather forecast for later in the week and it was for rain all three days we planned to spend in Lake Como - So – we decided to go to Rome instead! At this point it was 11 pm and we both had had a couple of Bellinis. But we managed to rebook our last night in Milan and book the other two at a hotel in Rome I'd been too previously. And booked the necessary train tickets. We ended up 'eating' one ticket which we no longer were going to use but we actually ended up saving money. But forecast for Rome is sun. And now Crista will get the 'grand Italy tour of Venice, Florence and Rome'.
Thoughts on Venice in March. Well definitely less crowded but that doesn't mean it wasn't crowded in the touristy areas such as Rialto. Piazza San Marco was noticeably less crowded. We waited 10 minutes to get into the Doges Palace, about that for the Basilica. The line that in July stretched from the Basilica to almost the canal was about ¼ as long midday, same for the bell tower. So not 'no lines' but clearly shorter ones. Back 'streets' almost deserted, but the main streets to and from Rialto/Piazza San Marco etc. had enough people that you had to go around them or slow down. But overall, on a crowd basis it was almost like night and day the difference between July and March. Mid day on the vaparetto we easily stood by the side, at 5pm we even got a front row seat! There was a mix of sun and clouds and Sunday night it was super foggy (and cold). Very different from a full moon and bare legs weather. I wore a thin long sleeve shirt and half the time I had a down jacket on and the other half not. The light is definitely different, the water not as blue/green, the sun (even when it is out) doesn't really get into the smaller canals and calles even at mid day. I'm guessing there is a tiny window of 'good weather/ not terribly crowded' that probably lasts a few days around late April but for most of the year I think you have to choose. This was interesting, and very glad I got to see Venice being more like a real city instead of 'Disney World' but I guess if I had to choose I'd pick the crowds over the poor light/cool temps. But that might be the photographer in me, I think others would choose the opposite. Piazza San Marco is nice to not be jammed, but the atmosphere is better in the summer.
I was in Venice last July and it was terribly crowded. I'd been before (in 2000, 04, & 08) and while there were certainly crowds in the main touristy areas of the Rialto, Accademia, and San Marco during midday, in the early and later hours and anywhere other than that main tourist stretch it was not at all crowded. But this last trip it was mobbed from 8 am to 10 pm and even on the smallest back canal. A friend had been first week of April last year and said it was wonderful, no crowds, great weather. So I decided I wanted to experience that for myself.
For the Florence, Rome and Milan portions of our trip see parts 2,3, and 4 of "Italy through new eyes: Chasing the Sun in Italy in March"
For more photos click on "All Photographs in the upper right corner and navigate to the Italy gallery.