Emilia Romagna is one of my favorite regions of Italy (well actually, they are all my favorites). The main 'goal' of my five week trip this summer (late June through July 2019) was Croatia, but getting there from the US is neither quick or cheap so flying to Italy, and then taking a ferry from Venice made sense. Since we "had" to be in Italy anyway, we decided to spend a week and revisit the Emilia Romagna region. Bologna, Emilia Romagna's capital is well known as a culinary capital but it's more than that. Not only is Bologna itself wonderful, but it makes a great base to visit several other gems including Modena, Parma, Ferrara, Faenza and Brisighella. We spent five nights based in Bologna and did one day trip to Modena and Parma, another day to Ferrara, a third to Faenza and Brisighella, and the last day in Bologna. This was my third trip to Bologna, and second to Modena, Parma and Ferrara. Train travel in this part of Italy is great and none of our day trips took more than an hour each way.
A great place to stay in Bologna is B&B Ambra, a ten minute walk from the train station, 15 minutes from Piazza Maggorie. It's on a main street Via Irnerio, just off Via Independzia, but was very quiet. The owner, Ambra, was there to greet us. She speaks almost no English but tried really hard to explain things (and my husband loved to practice his Italian - I have no idea how well they actually communicated but both seemed to be having fun). The B&B consists of about 6 ensuite guest rooms and one shared kitchen/dining room space. Everything is brand new and immaculate. Ambra makes breakfast each morning - yogurt, bread/toast, coffee, tea, cakes, fresh fruit. All this is also available throughout the day if you want, and there is a separate fridge to store food you buy elsewhere if you need to. The B&B is on the 5th floor of the building but there is a lift - although it's old and a little hard to figure out. Booked through booking.com, €80/night double.
BOLOGNA
Though a major Italian city, Bologna, population 375,000, feels smaller. The center is very medieval in plan, a jumble of red brick buildings, hulking towers, tiled roofs and stone balconies. The university makes up one-fifth of the city's population making for an interesting contrast between a very young human vibe and very old architectural atmosphere. The university, founded in 1088 (beats out Oxford, by 6 years) is the oldest university in the world. Bologna is the only city in which the most important tombs are not those of religious or civic leaders but of professors.
The most outstanding feature is the porticos - 40 km of them– besides being visually extremely interesting, they provide great shelter from both rain and scorching sun and no city in the world has more of them. They have been nominated as a UNESCO world heritage site. Porticos were first built in the late Middle Ages. The origin of porticos is the sporto, a protruding wooden structure which was built in order to extend the inner living space of the upper floors. These structures then grew bigger and heavier, so that it was necessary to prop them up with wooden beams which inevitably occupied the street. The streets were soon so crowded with porticos that the city council decided to lay down some official rules. While other cities had banned the portico, in Bologna it became compulsory as a public space. Statutes established that all new houses should have a portico and set out the minimum measures, for example the height should be 7 feet in order to allow the passage of a man riding his horse.
Some examples of these first porticos are the wooden portico of Isolani House (19, Strada Maggiore) photo below right, the one of Palazzo Grassi (12, via Marsala) lower left and the portico of the Reggiani – Seracchioli Houses (Piazza della Mercanzia) upper left.

Piazza Maggiore & Piazza Netetuno – are two adjoining main squares, rimmed by beautiful medieval fortress looking palazzos – Palazzo Comunale (1287-1425) on one side and the adjoining Palazzo del Podesta/Palazzo di Re Enzo (1212-1484) on the other and the Basilica di San Petronio (1390). The cathedral was originally intended to be much larger but money ran out and the result is the cathedral looks 'unfinished'. In the center of the piazza is the Fontana di Nettuno (1566) (Neptune Fountain), one of the most extraordinary fountains in Europe. Viewed as irreverent by some, "indecent" by the Catholic Church, and magnificent by those with more liberal tastes, the 16th century fountain depicts Neptune with rippling muscles, a trident in one arm, and a heavy foot on the head of a dolphin. The church tried to force the sculptor, Giambologna to manipulate Neptune's left arm to cover his monumental endowment. Giambologna's defenders denounced this as "artistic castration." Around his feet are four highly erotic cherubs, also with dolphins. At the base of the fountain, four very sensual sirens spout streams of water from their breasts.
Upper left: Palazo Comunale Lower left: Pallazo dei Podesta Right: Palazo Comunale with the Neptune fountain
Left top: Neptune Fountain; center: Palazzo dei Podesta; bottom: Cathedral Center: Neptune Fountain Right: Palazzo Comunale
Via Clavature is one of the two main pedestrianized 'restaurant' streets. The Church of Santa Maria della Vita is here, as well as the Portico della Morte which translates to 'Portico of Death'. The nearby Hospital of Death was very popular among medical students who used the corpses of executed men to make anatomy studies in the nearby Palazzo dell'Archiginnasio. The street runs from the Piazza Maggiore to via Castiglione and Piazza della Mercanzia with the Palazzo della Mercanzia and across the lane one of the original wooden porticos - of the Reggiani – Seracchioli Houses. The whole area could be a movie set.
Via Clavature - top left Portico della Morte; top right: Church of Santa Maria della Vita

Via Clavature and the nearby Via Caprari are home to many restaurants and food shops including A.F. Tamburini, which features local cuisine including tortellini which was 'invented' in Bologna. The Emilia Romagna is known as the 'breadbasket' of Italy and is home to lasagna and ravioli as well as tortellini and several other pastas.
Left: Reggiani-Seracchioli Houses with original wooden portico Center & right top & right middle: Palazzo della Mercanzia
Le Due Torre - Two landmark towers, mentioned by Dante in The Inferno, on Piazza di Porta Ravegnana. Built by patricians in the 12th Century, these leaning towers, the symbol of Bologna, are definitely gravity defying. In the Middle Ages, Bologna had dozens of these towers. The more powerful the family was, the taller its tower was; only 60 remain out of more than 200 that once stood. Torre Garisenda, late 11th Century, tilts 10 feet off perpendicular, was shortened to 165 feet in the 1300s. Torre degli Asinelli (circa 1109) is 320 feet tall and leans 7½ feet. Torre degli Asinelli can be climbed and it is one of the more strenuous tower climbs in Europe with 500 narrow, wooden steps, but an impressive view over Bologna. The Church of San Bartolomeo, overshadowed, literally and figuratively is right behind the two towers.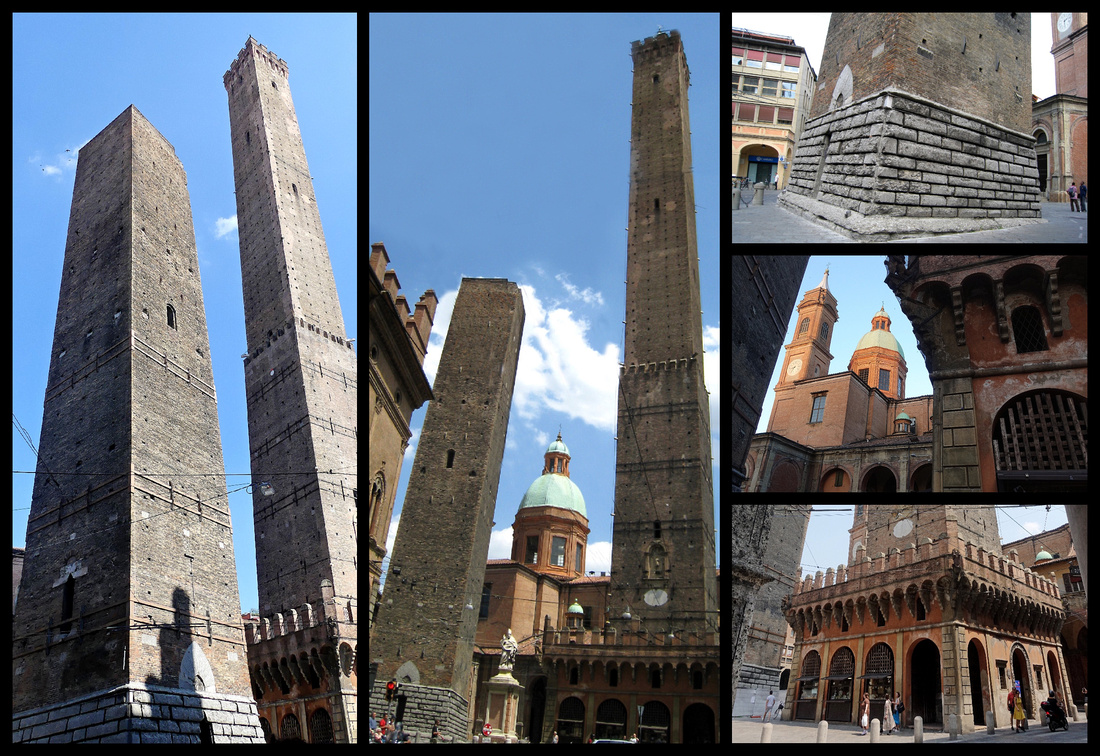 View from the top and some of the many flights of stairs leading up to it
Typical medieval streets in central Bologna
Archiginnasio, which features a long porticoed façade, was once the main building of the university. Just behind the cathedral it is still one of the most impressive buildings in the city. Beautiful arcaded courtyard with lots of frescoes and sculptures. Today it houses the municipal library and anatomical theater.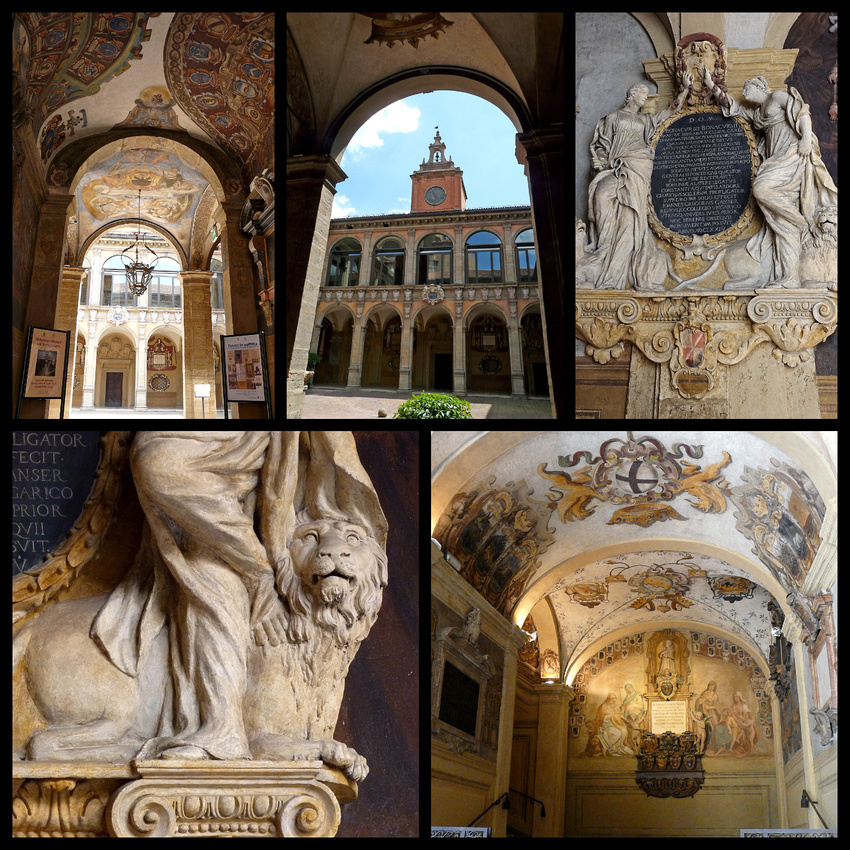 The Archiginnasio is on Piazza Galvani (top left). Bottom left: inside the porticoed facade. Right: via Carbonesi's porticos have beautifully painted ceilings.
Piazza San Stefano Southeast of the Due Torri, Via Santo Stefano leads down to its medieval gateway past a complex of four – but originally seven – churches, collectively known as Santo Stefano. The interlocking ecclesiastical structure's architecture spans centuries and incorporates Romanesque, Lombard and ancient Roman elements. It's an attractive complex set in a wide triangular shaped piazza at the conjunction of several narrow porticoed streets. It looks so medieval it could be a movie set - in fact a movie was actually being shot when I was there.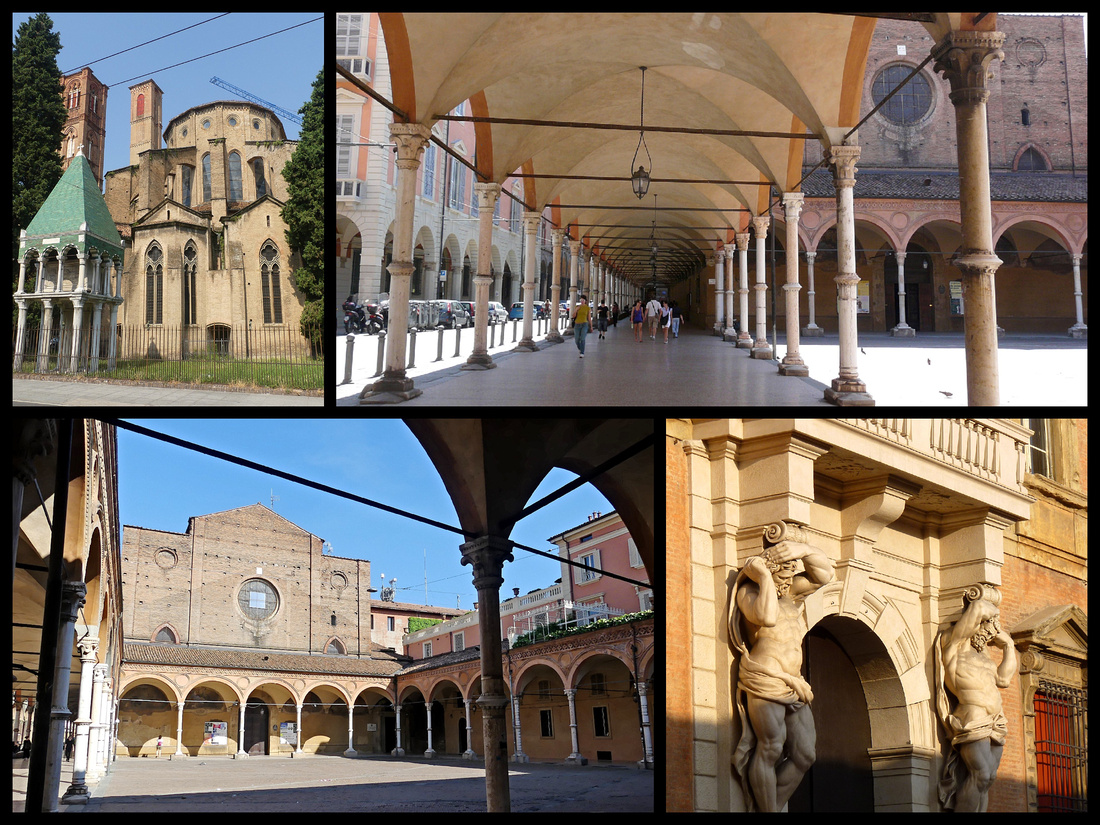 Top left: Church of San Domenico Top right and bottom left: Santa Maria dei Servi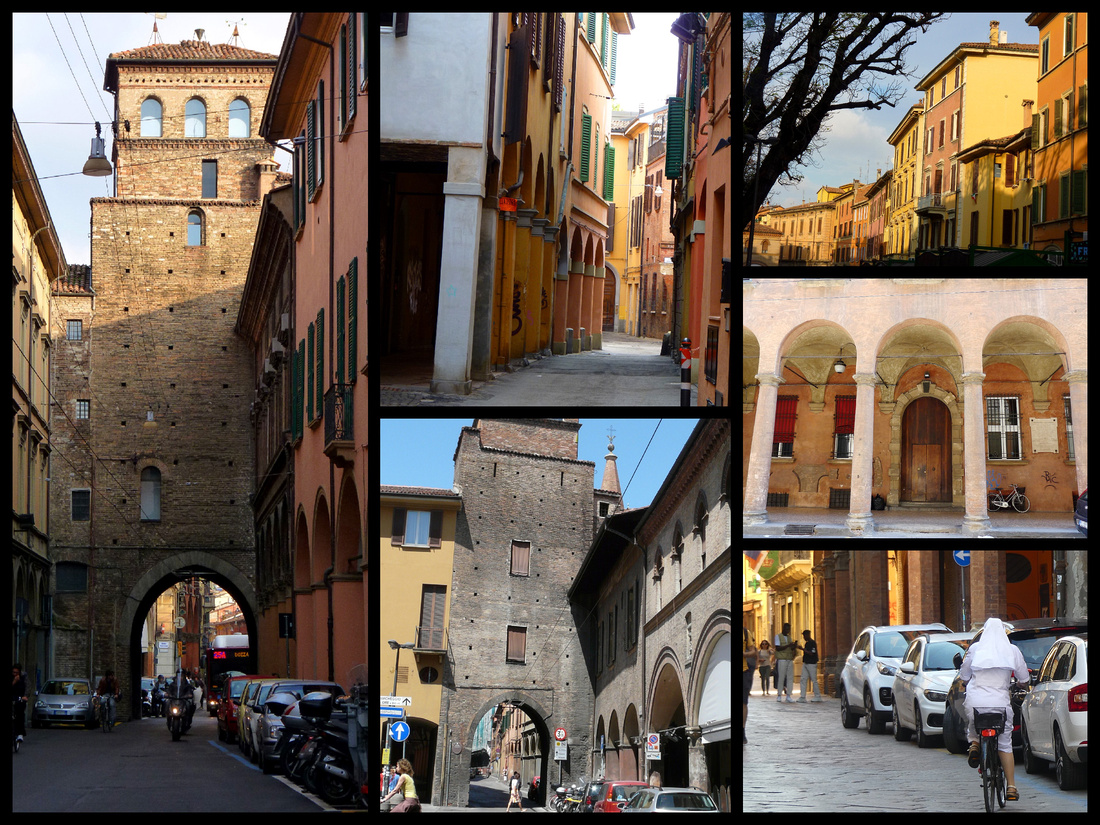 Via San Vitale and Piazza Verdi
The University of Bologna is not only the oldest university in the world (1088) but is still one of the leading academic institutions in Europe. It was the first place of study to use the term universitas for the corporations of students and masters, which came to define the institution (especially its famous law school). There are currently 11 schools within the university. The university's emblem carries the motto "Alma mater" studiorum ("nourishing mother of studies")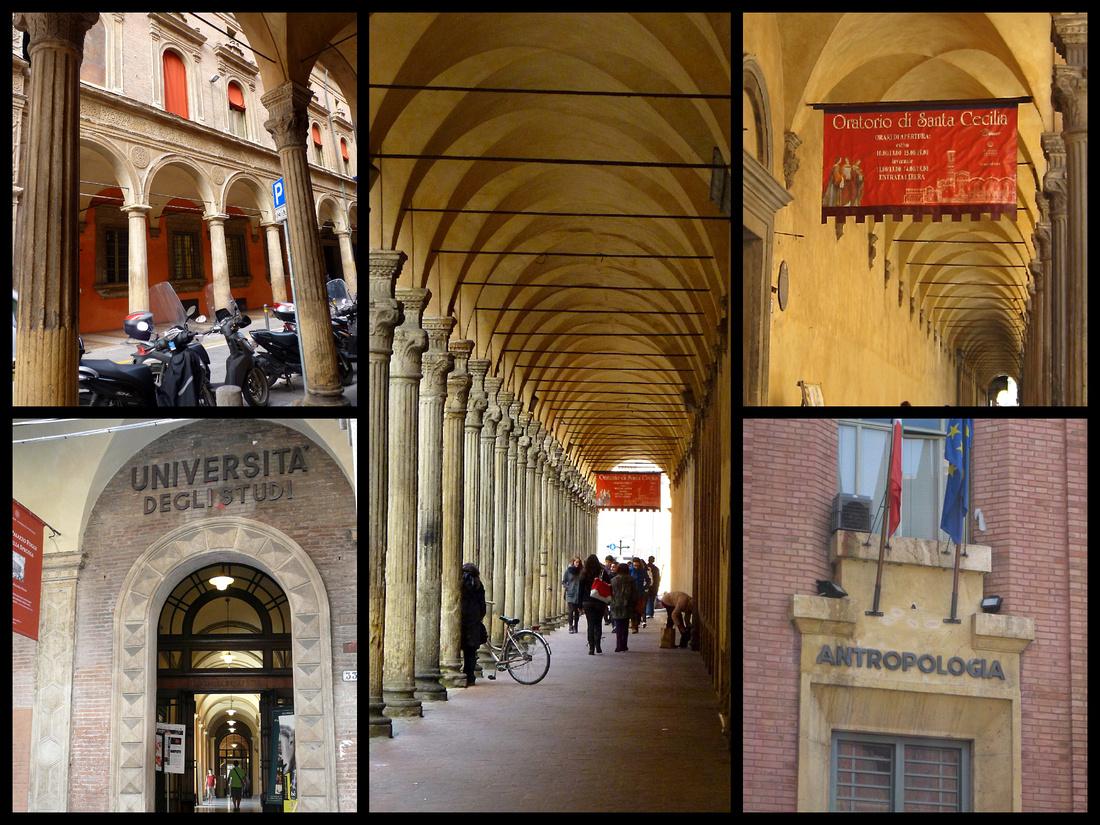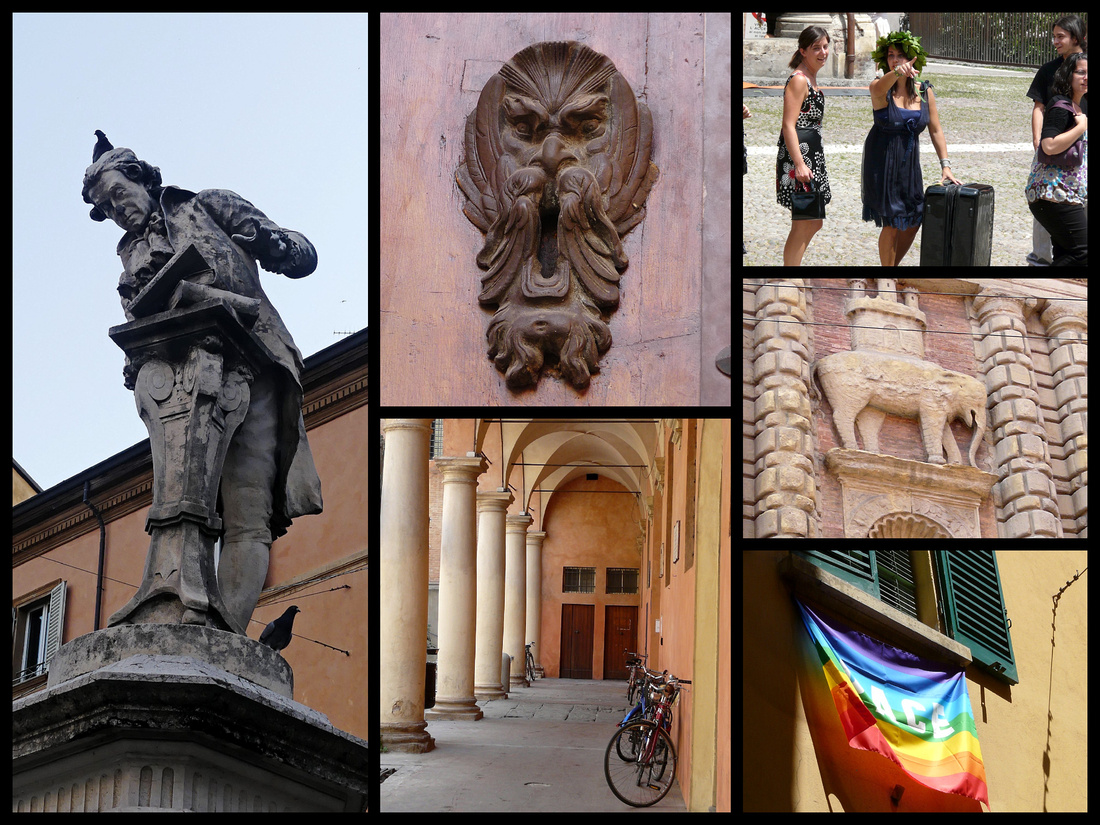 Above Left: Statue of a professor with books Center and lower right: Miscellaneous parts of the university
Upper right: When a student graduates from the university they are 'crowned' with laurel leaf wreaths. It signifies receiving your 'laurea' or degree and is a tradition all over Italy.
Interesting, but not really a 'must do' is the Sanctuary of San Luca. The church itself, is not special at all, many in Bologna center are as interesting. It was built in 1723 on the site of an older church. But it's location, 300 meters up a hill outside the center reached by the longest continuous portico in the world, is. The arcade is 3.8 km long and consists of 666 arches and was built between 1674 and 1793. Google says it can be walked from the city center in an hour and a quarter but you'd have to be hoofing it pretty good to accomplish that. It took us 1½ hours to walk downhill. Most people take the tourist train from Piazza Maggiore. Normally we would definitely have walked it, but as a concession to the 101-degree heat we took the train up and walked down. Really, walking the porticos was by far more interesting than visiting the church itself.
Above top: the portios leading to San Luca Bottom: Porta Saragozza, one of the ancient gates to the city sits across the street from the start of the porticos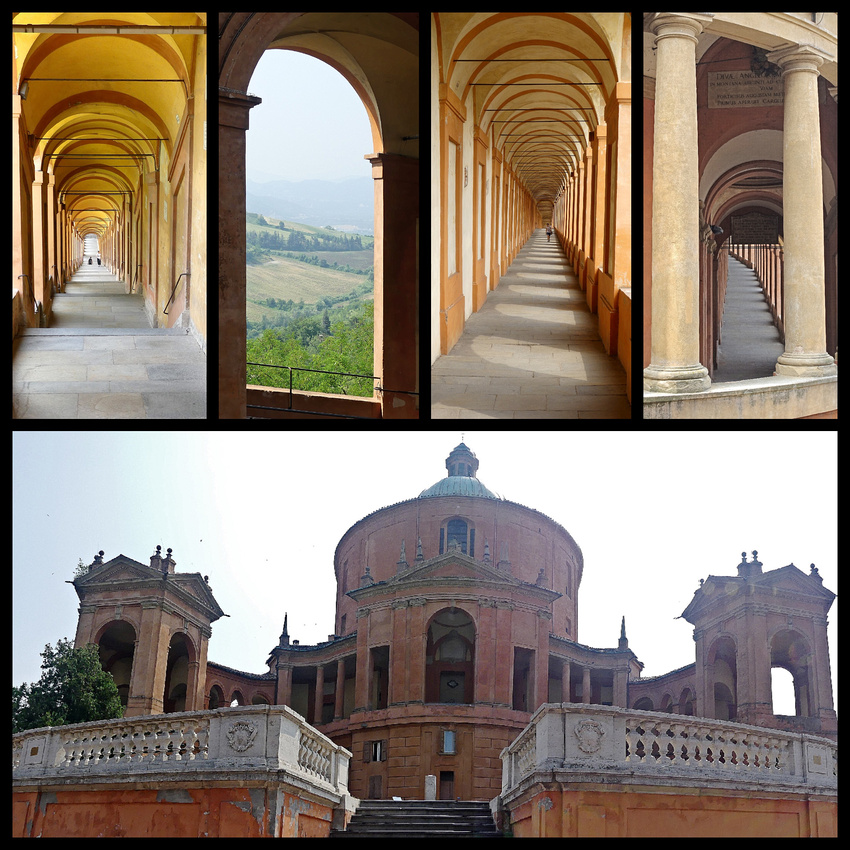 Above Top: San Luca Porticos Bottom: Church of San Luca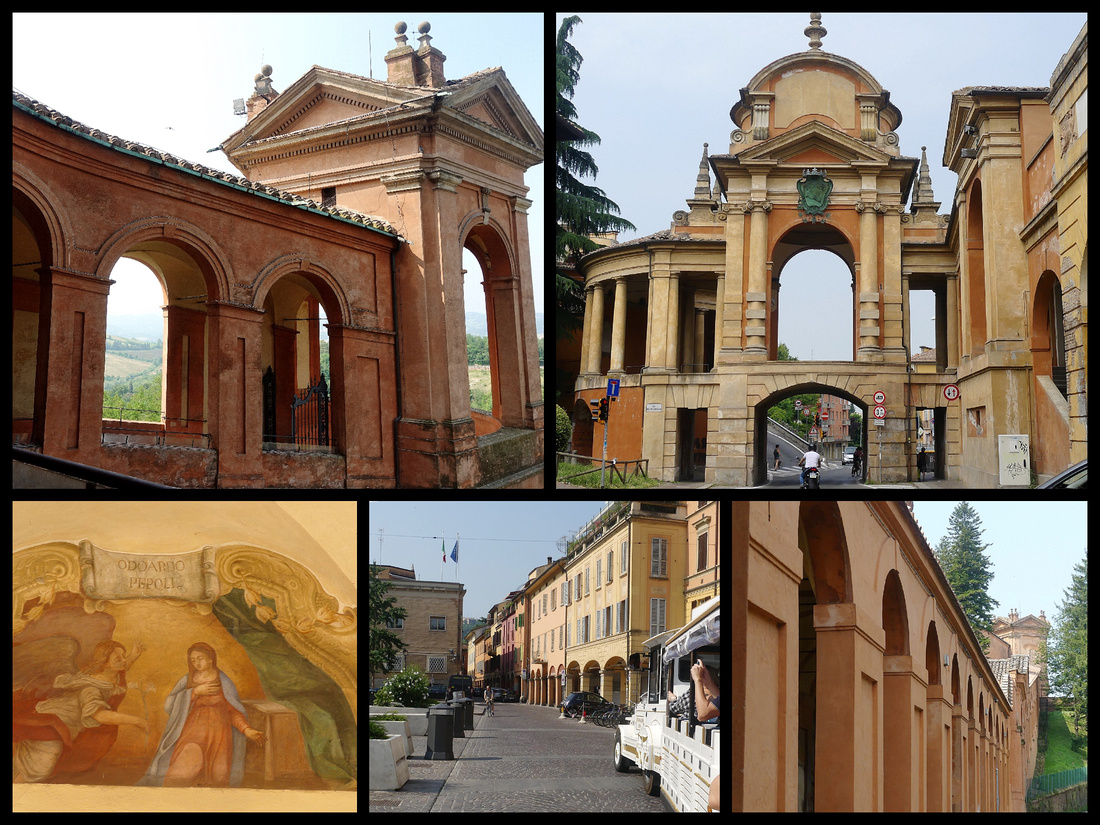 Above: Sanctuary of San Luca and it's porticos
Left top: Bologna town gate Left middle: Parco della Montagnola stairs Left & center bottom: Via dell Indipendenza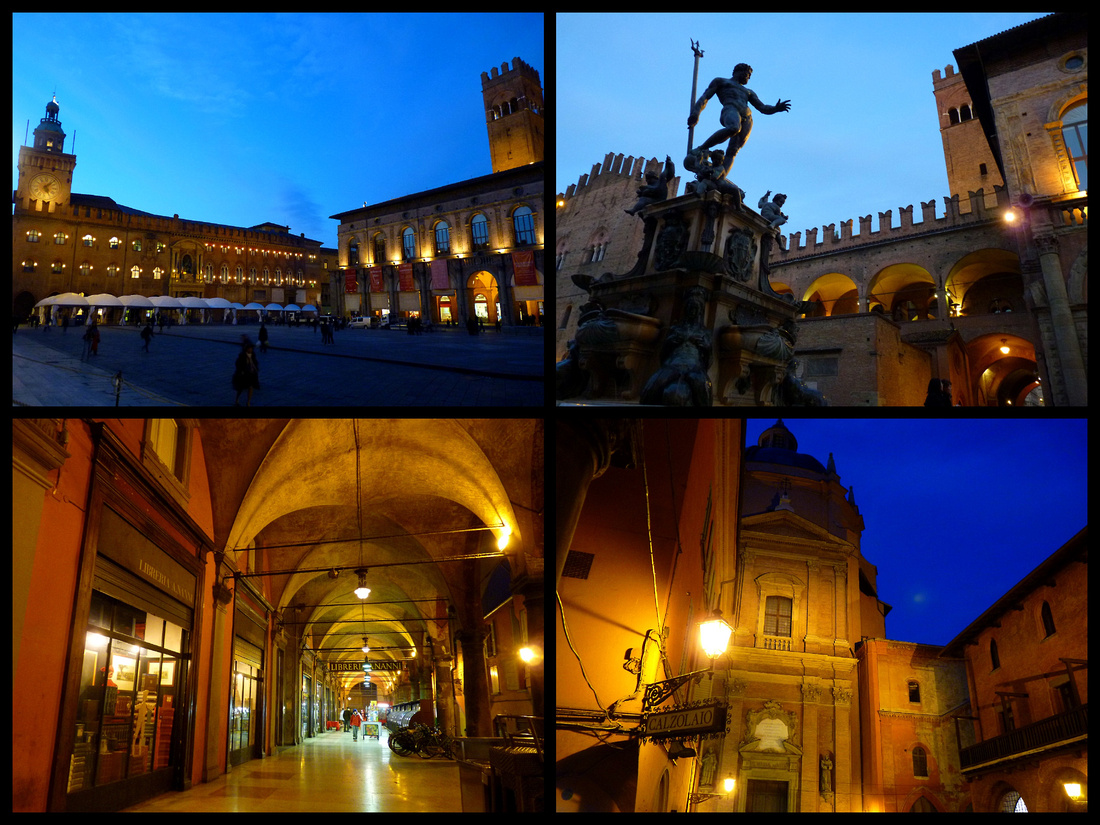 FERRARA
Ferrara, (population 134,000), is another UNESCO world heritage site: "Ferrara, which grew up around a ford over the River Po, became an intellectual and artistic centre that attracted the greatest minds of the Italian Renaissance in the 15th & 16th C. The humanist concept of the 'ideal city' came to life here in the neighbourhoods built from 1492 onwards by Biagio Rossetti according to the new principles of perspective. The completion of this project marked the birth of modern town planning and influenced its subsequent development."
Ferrara, only ½ hour train from Bologna, is another town I had previously visited and really loved. Only a 20-minute walk to the center. The main street, Via Cavour, which is the way Google says to go and is the obvious way, is a busy street and less pleasant than Via Cassoli & Via Garibaldi which is mostly pedestrianized and comes out right opposite the cathedral. I liked Ferrara as much as I did the last time, nice vibe, lots of bicycles, busy enough but not too much so. Although it certainly has a tourism industry, Ferrara is not on the typical itinerary, which makes it perfect for those who want to get off the beaten path of Venice-Florence-Rome and soak in some authentic northern Italian culture. It's characterized by twisting medieval cobble stoned streets, a Duomo with a Gothic facade, and a castle complete with towers, moat, and drawbridges. The genuine masterpiece though is the city itself. Half medieval, half Renaissance.
In the center of town, the 13th century crenellated Palazzo Municipio (aka Palazzo Comunale) was the first residence of the Este family, built between 1245 and 1481. On one side is the Torre della Vittorio, in the center is the main gateway, the other side is Lo Scalone d'Onore. Directly opposite, through the gateway is Cathedral of Saint George/ Duomo, (1135-1250). Two recumbent lions guard the entrance. The south side of the cathedral is interesting, the loggia dei Merciai, lined with medieval shops with overhanging arcades (today with modern stores) along the rectangular Piazza Trento e Trieste. The pink and white stripped bell tower is at the far end of the cathedral (and thus the piazza).
Palazzo Comunale Top left and bottom right - interior courtyard Top right and bottom left - exterior
Left top and bottom: Front facade of Ferrara's Duomo Right: side and bell tower from Piazza Trento e Trieste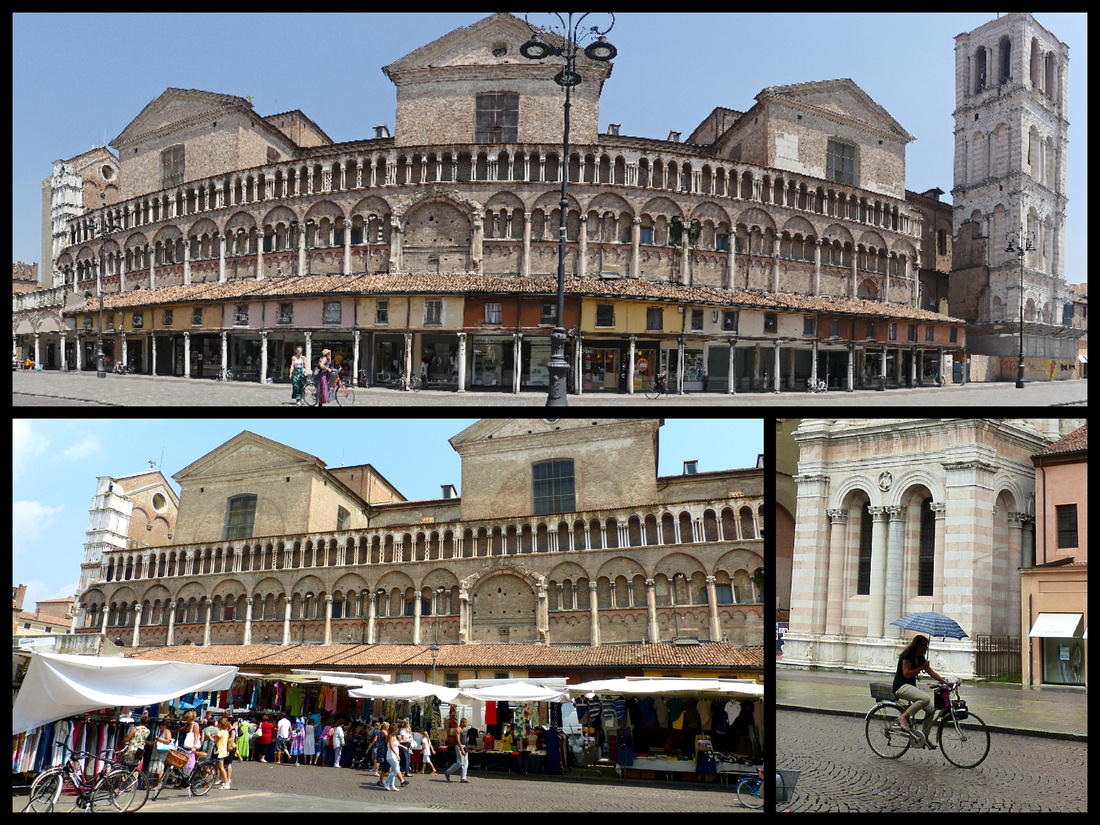 Above: Piazza Trento e Trieste
Casstello Ertense, large and impressive for a city center castle, has drawbridges and a large courtyard that you wander for free but to climb the tower you have to buy admission to the museum (€12 and reportedly not that interesting, most of the building is now offices). But from the outside it's very impressive, especially with the moat full of green water. Built between 1385 and 1554 with four massive towers it was a suitable symbol for the ruling Estes family: cold and menacing on the outside, lavishly decorated within. The public rooms are grand, but deep within are dungeons where enemies of the state were held in wretched conditions—a function these quarters served as recently as 1943, when antifascist prisoners were detained there. It was here, in 1425, in the marital bedchamber and the dungeons, that Niccolò d'Este had his second wife and her lover - his own son, Ugo - murdered for an alleged affair. This venting of medieval righteous anger is perhaps understandable until you learn that he himself boasted of sleeping with 800 women.
Just opposite the cathedral is the cathedral museum, with an equally perfect medieval cloister (free) at the entrance to the Cathedral Museum. Ferrara has many cloisters, most of which were built in convents. Five hundred years ago, Ferrara, like all other Italian cities, was so nervous about female sexuality that as soon as respectable women reached the age of menstruation they were either married off or - more likely, given how expensive dowries were by this time - incarcerated in convents. "Christ is the only son-in-law who doesn't cause me any trouble," wrote the great Ferrarese Renaissance patron Isabella d'Este, after walling up two of her own daughters for safety.
But while no one can deny the appalling unfairness of the practice, it was not all terrible. Sisters, nieces, aunts and cousins within a family would all have been nuns - and, bearing in mind the forced marriages, abusive husbands, lack of birth control and death toll from childbirth outside the walls, convents could be sanctuaries as well as prisons. The more you dig, the more a portrait emerges of small republics of women with their own dramatic ebb and flow of power. Sarah Dunant wrote a novel, Sacred Hearts, set in Ferrara about this, and reading it before a visit really helped bring alive medieval Ferrera.
Above: Cathedral Museum and cloister
A porticoed pedestrian shopping street leads off Piazza Trento e Trieste to the Via delle Volte, one of the best preserved medieval streets in Europe. Full of arches (volte means arches) over a narrow cobblestone alley, the arches originally joined the merchant's houses on the south side of the street with the warehouses on the north. The street used to run parallel to the River Po, which is now much further away.
Not far from the center is Casa Romei, one of the best-preserved Renaissance buildings in Ferrara (where Lucrezi Borgia spent much of her time). The exterior is a huge, austere brick building but inside is a beautiful courtyard with two story arcades, 16th century rooms, frescoes, etc. Unfortunately Casa Romei was closed on Thursday morning. Fortunately I visited it the last time I was there so didn't care that much. But the other palazzo which I had wanted to but didn't get to on my last visit, Palazzo Schifanoi, was closed for renovations this time. And it's about a mile each way walk from the center. Oh well.
Above left lower: Casa Romei Other photos above: streets of central Ferrara
Modena and Parma – Trains between Bologna and Modena and Parma are frequent – usually 3 per hour so we didn't have to worry about schedules. We took regional trains and they vary between fairly modern, air-conditioned trains to the older blue/green boxy shaped trains that supposedly now are also air-conditioned but aren't really so people open the windows and the blue curtains flap in the wind and during a heat wave can be really uncomfortable.
I had been to both Parma and Modena previously. Although I loved Modena the first time I was there, the Duomo was undergoing extensive renovation and I wanted to see it completed. And I had been underwhelmed by Parma, which many people love so wanted to give that a second chance.
MODENA
Modena's town center is a UNESCO site ("12th century architectural complex of a medieval Christian town"). It feels much smaller than it's population (185,000) suggests, a ten minute walk from the train to the town center, filled with arcaded streets, kind of a mini Bologna. Lovely, laid back atmosphere. It has lots of porticos and a magnificent main square and a number of claims to fame: cars such as Ferrari, Lamborghini and Maserati are tied to the town; the late Pavarotti was a native and is buried in his family plot; the area's balsamic vinegar, aged up to 40 years, has become a cult product; and the cathedral is considered one of the finest Romanesque buildings in Italy. The cathedral, both interior and exterior (all sides) is quite beautiful. There's also a large covered market and a nice park. During five hours there we saw one small tour group and very few other tourists.
Above top and left: The Duomo on the main Piazza Grande; Bottom right: the 'front' of the cathedral is actually behind Piazza Grande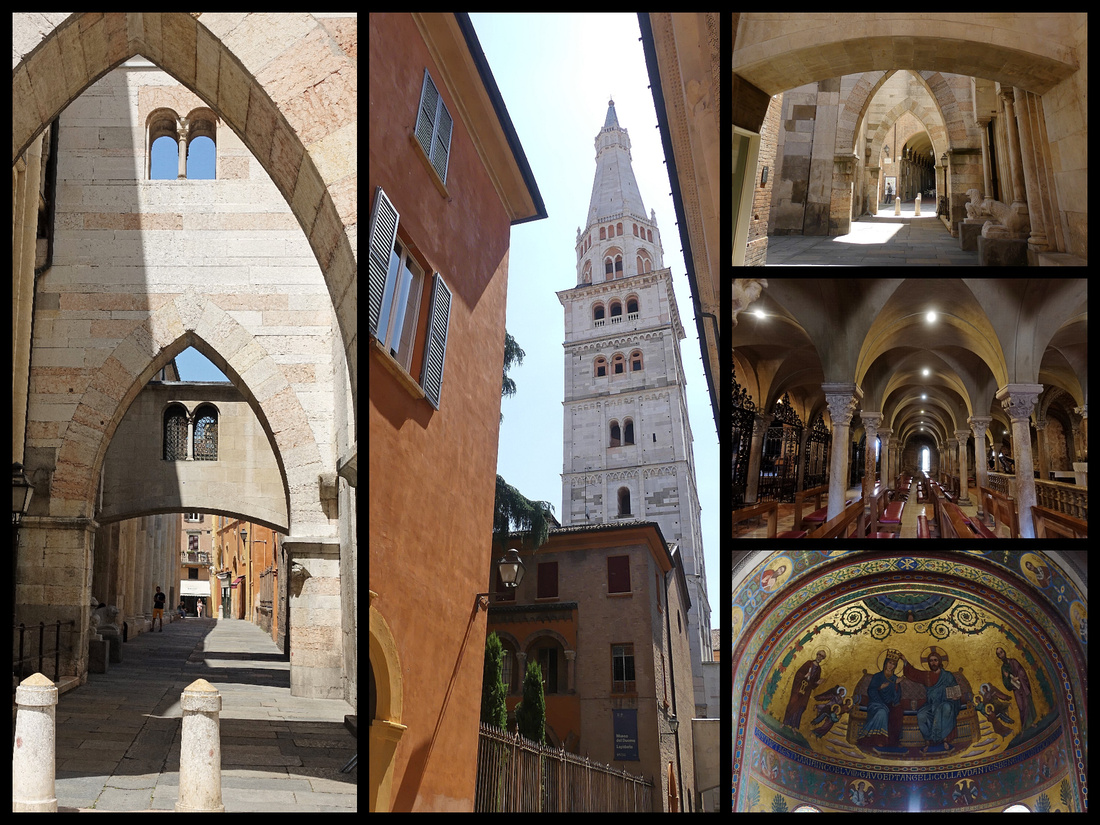 Side, bell tower and interior of Duomo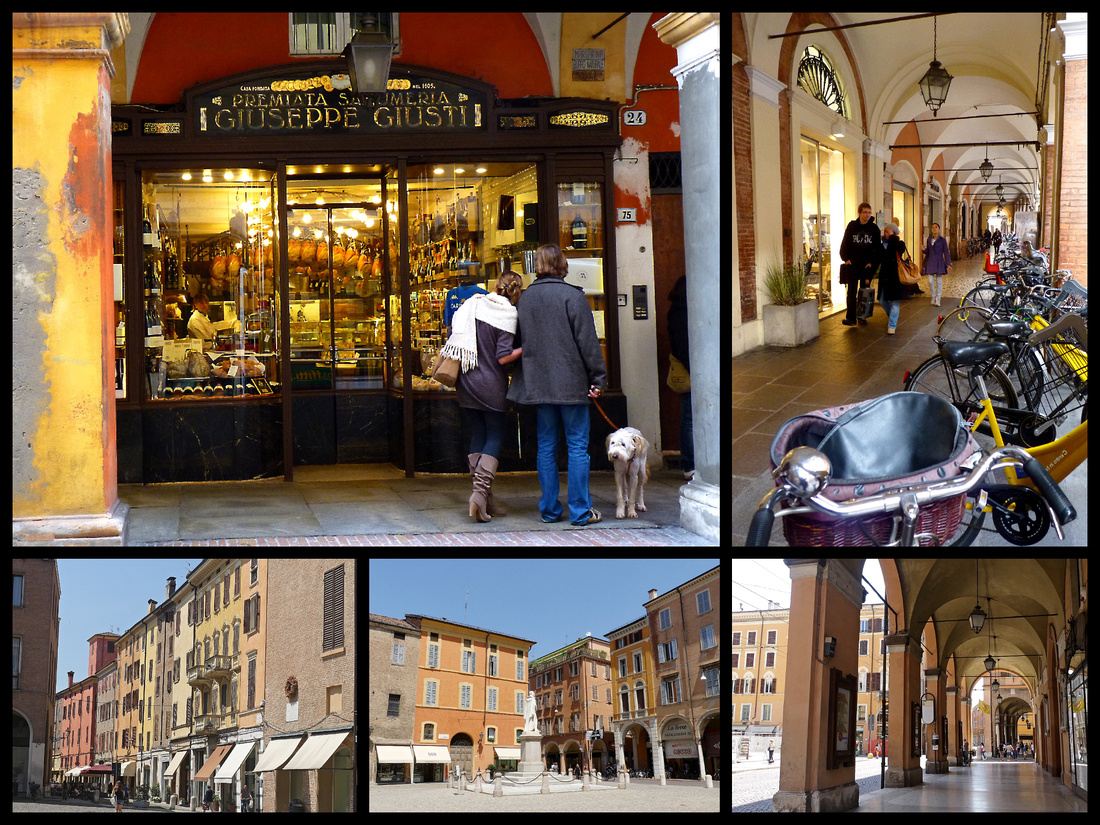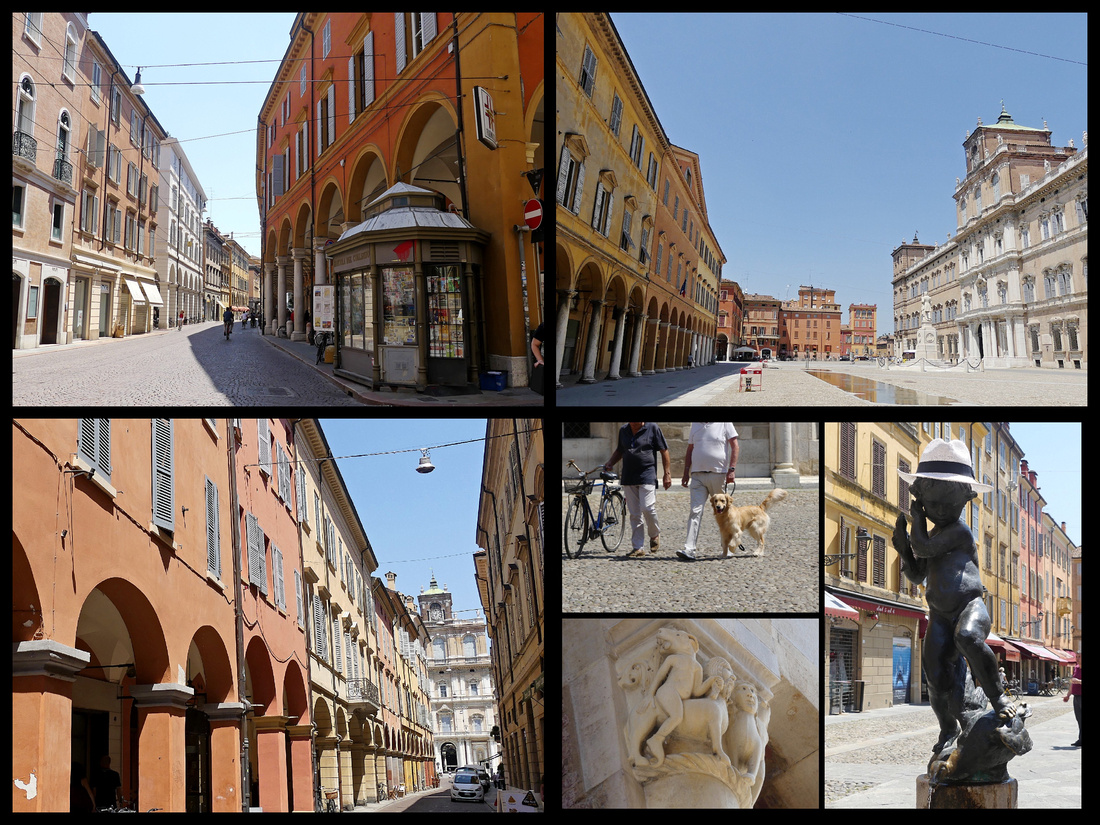 PARMA
Parma, (population 194,000) is famous for prosciutto ham and parmagiano cheese is one of the most prosperous cities in Italy. Piazza Garibaldi, the main square, is home to Palazzo del Governatore, Baroque and Neoclassical, begun in the 1200s a major government building for hundreds of years. It spans the whole width of the square – the central bell tower has an interesting clock face.
Nearby Piazza del Duomo contains the cathedral (Romanesque, 11th-12th Century, with two stone lions guarding the main door) and the Battistero, and the Palazzo del Vescovado (Bishop's Palace). The Duomo's octagonal cupola was frescoed by a master of light and color, Correggio, one of Italy's greatest painters of the High Renaissance.
Behind the Duomo is the baroque church of San Giovanni (Renaissance) with more impressive art.
Above: top left & bottom right: interior of Duomo Top right: back side of Duomo Lower left: San Giovanni

But I had the same impression I did the first time I was there – when it was also very hot and sunny – the place has no vibe to it. The center is clean and there are some nice buildings but that it's. The Duomo (free) is "OK", quite small as Duomos go, San Giovani Evangalista, the church behind the Duomo is dark and the art work didn't do anything for me. (I did have a great limone gelato there). We wandered around looking for shops selling parma cheese and ham but surprisingly didn't find any till we were heading back to the station and found the large enclosed market – which was a really nice (but very modern) place.
During our week in Italy, the only place we went that I had not been to before was Brisighella (and Faenza). It had been on our itinerary during a previous trip but we ran out of time and it sounded interesting so I was determined we'd get to it this time. Trains from Bologna to Faenza are frequent (30-45 minutes) but although the train from there to Brisighella is only about 10 minutes, they are not frequent, so some planning was involved to make it work.
FAENZA
A town of about 60,000, half an hour from Bologna is virtually unknown by tourists except for it's one claim to fame - The ceramics of Faenza is called majolica-ware (or "Faenza glazed"), referring to ceramics with a glassy coating made opaque with tin oxide. The style originated on the Spanish island of Mallorca and the name has become synonymous with ceramics in various languages, including French (faïance) and English (faience). The International Museum of Ceramics is there but surprisingly there were only a few shops selling ceramics. Besides ceramics, Faenza's architectural attractions are concentrated in the two contiguous main squares: Piazza del Popolo, lined with porticoes, the Palazzo del Podesta and the town hall, and Piazza della Libert with the Tuscan style Renaissance cathedral (1474), There is also a nice bell tower and an especially nice fountain– instead of the usual fish and cherubs there were four impressive lions and dragons - beautiful. There was a cheap clothing market in the smaller square behind the main ones. Not much to do after appreciating the fountain, bell tower and rest of the piazza so we headed for the International Museum of Ceramics but were sidetracked by a ceramic store and ended up buying a small Faenza tray – (but hey, I haven't bought ceramics in years and this is where 'faience' ware comes from). By the time we got to the actual museum we decided we really didn't have time for it (cost €14 to enter so we'd want to stay a while I figured) since we had to make the train. We figured we could stop on the way back from Brisighella since we had to change trains anyway but by then we were too hot and tired.
BRISIGHELLA
(population 7,800) town center is just a 5 minute or so walk from the tiny (unmanned) train station. A medieval spa town, also virtually unknown to Americans. The medieval quarter has an unusual silhouette, surrounded by three rocky pinnacles one topped by the rocca (fortress), another by an unusual clock tower (only 6 numbers), and the third, a small church, amidst the greenery of the Romagna Apennines. It's "One of Italy's Most Beautiful Villages". It really is a cute village with some atmospheric buildings forming a curved main street. There's a small TI, which was open and had very friendly people in it who kept commenting on how unusual it was to have American visitors. Turns out the Rocco and Clock Tower are only open on weekends except in July and August, and while the close to 100 degree temperatures certainly felt like mid summer, it was still June.
Other than the three hills, the main attraction is the Via degli Asini,(Street of the Donkey) aka Antica Via del Borgo, a street built into the town wall (which is composed of houses) with light provided by open arches. This raised, covered passageway was built in the 12th century to protect the donkeys carrying chalk/gypsum from the quarries. It has heavy wooden beamed ceiling and brick/cobbled pavement. Very nice, about 2 minutes long.
Then we marched in the blazing heat up 400+ steps to the closed clock tower. There are nice views and I'd read there was nothing significant inside the clock tower anyway. It's way up high (thus the 400+ steps) but the tower itself is not very tall. Nice view of the Rocco across the town (1310, restored by the Venetians in the 16th Century) on the next hill, and the chapel (18th Century) on the third.
We started hiking up to the Rocco but decided it wasn't worth it given the heat and the fact that we'd just seen the view from the clock tower. This all took just over an hour and of course the choice of trains back were in one hour (not enough) or 3 or 5 hours. So we went to one of the few bars/cafes that was open for a drink and wandered around the largely deserted village a bit more getting back to the station only about 15 minutes early. Only the train was delayed so it was over a half hour. Back in Faenza we got a ticket for the next train to Bologna only it required a change in Imola. So a lot of waiting for and being on trains today. Some were air-conditioned beautifully, some hardly at all. They were all regional.