Summer 2019 Part 2 - Two weeks in Croatia -
Istrian Peninsula / Plitvice Lakes / Dalmatian Coast
This was our second trip to Croatia, the first - 9 years ago - started in Dubrovnik and went up to Split. This time we started in Rovinj and went down to Split.
We arrived in Rovinj via ferry from Venice and spent 6 nights there, visiting Pula and Porec by bus and then renting a car to visit some of the Istrian hill towns. Then we drove to the Plitvice Lakes, and on to Zadar where we dropped the car and spent one night. We took a bus to Sibenik, another night and then to Split where we caught a ferry to Hvar island for two nights. Back in Split we spent three nights, doing one day trip to Brac island.
We took the ferry from Venice to Rovinj. Unfortunately it was a hydrofoil type with hundreds of airplane type seats and dirty windows; luggage had to be thrown into massive piles that you were not able to access during the trip. No sitting out on deck with the wind in your hair watching Venice as you sailed away. It took almost four hours and you had to arrive an hour early (so they said) to go though security and board. So not the greatest experience, but it was faster than the other options.
ROVINJ (population 14,000) certainly is rather charming. From the air, its location on a promontory makes it look like a fairy-tale village suspended on a pillow of bright blue sea; at ground level, it looks like the quintessential Italian fishing village. Central Rovinj once was an islet, in 1763 the channel separating it from the mainland was filled in. Shiny smooth stone 'streets' (pedestrianized) all lead up to converge at the church of St. Euphemia. A large number of the buildings are restaurants, stores or 'sobe's /apartments but everything is very well kept. If you don't shop you can pretty much cover the center in an hour. The harbor is jammed with small boats, you almost can't see the water there are so many of them. The promenade leads all the way around and into the newer parts of town with nice views back to the old town/ peninsula, it is also lined with restaurants. There looked to be way more shops and restaurants than tourists. Rovinj was part of the Venetian Republic for over 500 years, and is the most Italian town in Croatia: there's an Italian high school, Italian is widely spoken, and street signs are bilingual.
There are wide waterfront promenades almost all around the old 'island' part (and extending onto the mainland) – except one section where the old houses reach right down to the water. The main square is Trg M. Tita featuring the Balbi Arch (1679) entrance way into the old town. Due to the war between the Venetians and the Turks it has the Venetian Lion on one side and a Turkish face on the other. This is the most elaborate of what were once 7 gates into the old town. A little ways along the waterfront promenade from the main square are two remaining stone archways (gates), St. Benedict gate (seashore gate) and St. Cross gate (naval gate), both 1589.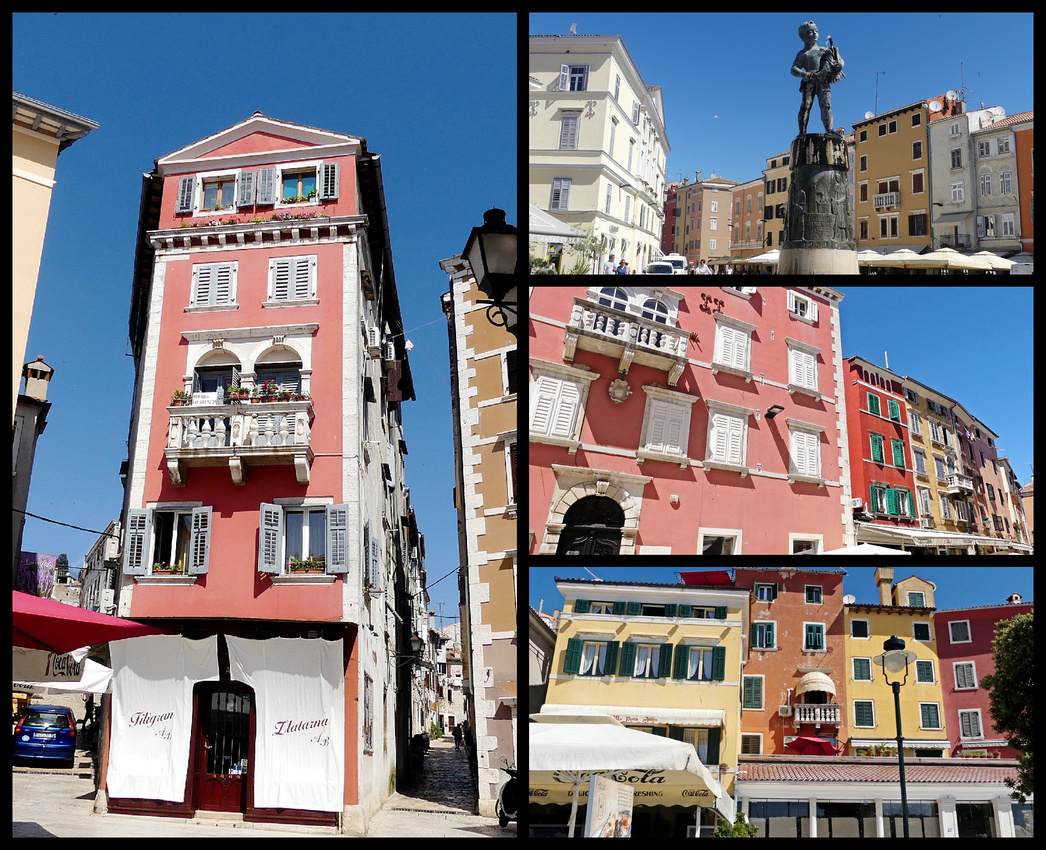 St. Euphemia Church [Crkva Sv Eufemije] and its campanile dominate the skyline. Inside the 16th Century baroque church, the remains of Rovinj's patron saint are said to lie within a 6th century sarcophagus. (The wall engraving just to the right of the entrance is St. Euphemia holding Rovinj in her arms.) The adjacent bell tower was built 50 years earlier and is one of the highest campaniles in Istria, a replica of the bell tower of St. Mark's Basilica in Venice. It is topped with a copper statue of St. Euphemia. The people of Rovinj made St. Euphemia a patron saint of the city along with St. George after the stone sarcophagus containing her body mysteriously showed up on their shores.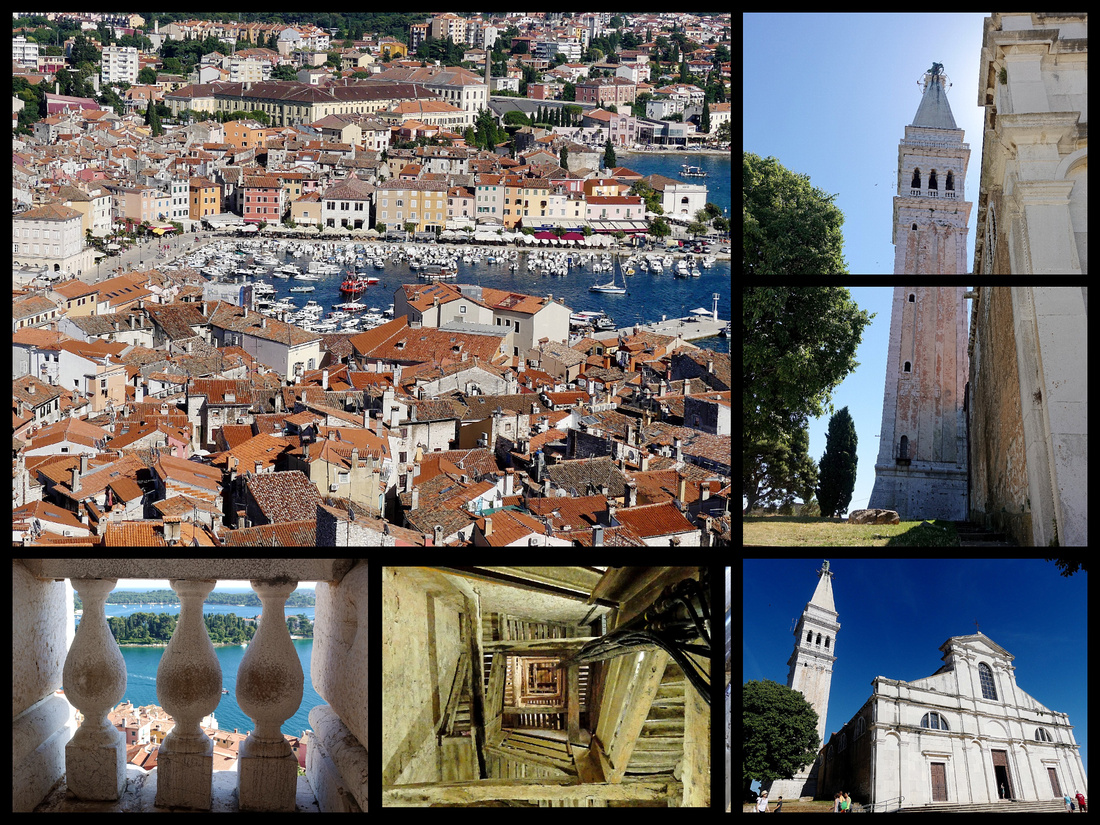 Above center: Stones steps lead to one of the original town gates, through which is the street to the Volti Studio Apartment where we stayed
"Modern" Rovinj stretches onto the mainland, and along a larger harbor, then onto some beach area. The 'hill' is covered with a group of five luxury hotels with shared pools, waterfront, tennis courts, lawns, etc. A long promenade connects this area with old Rovinj. I think this is where most of the tourists to Rovinj stay, just venturing into the old town for dinner. We only went through there because the car rental pick up was there. I'm really glad we stayed smack in the center of the old town.
A lot of the accommodations in Croatia are B&Bs, or small apartments or 'sobes'. We spent our six nights at the "Volti Studios Apartment", booked on booking.com for €73/night. A 5 minute walk from main square, extremely charming stone street through stone arch to get to it. The apartment is lovely and spacious with couch, loveseat, huge TV, modern kitchen, comfortable bed. Lots of space to spread out. All very recently renovated and super clean. Window looks out on a stone airshaft so no view (of anything) but if you look up you can at least see sky and daylight gets in, and at least there are no stairs to climb.
We had 6 nights but didn't arrive till late the first day so really just five full days. One day we spent in Rovinj just enjoying the town, took a boat ride out into the surrounding islands. The other four days we did day trips but which worked out great as Rovinj itself is the best (I think) place on the Istrian peninsula to base. Great selection of restaurants for dinner, beautiful sunsets, and a lovely vibe in the evening along the waterfront and through the golden cobblestone lanes.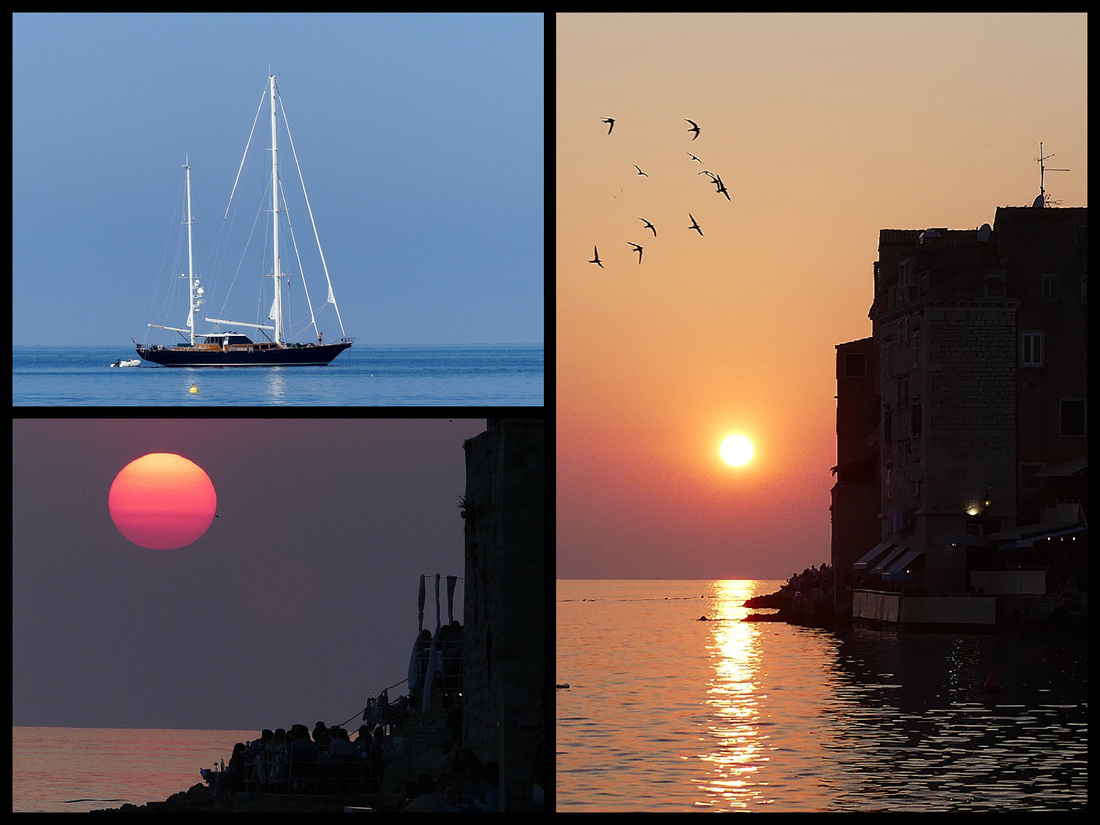 PULA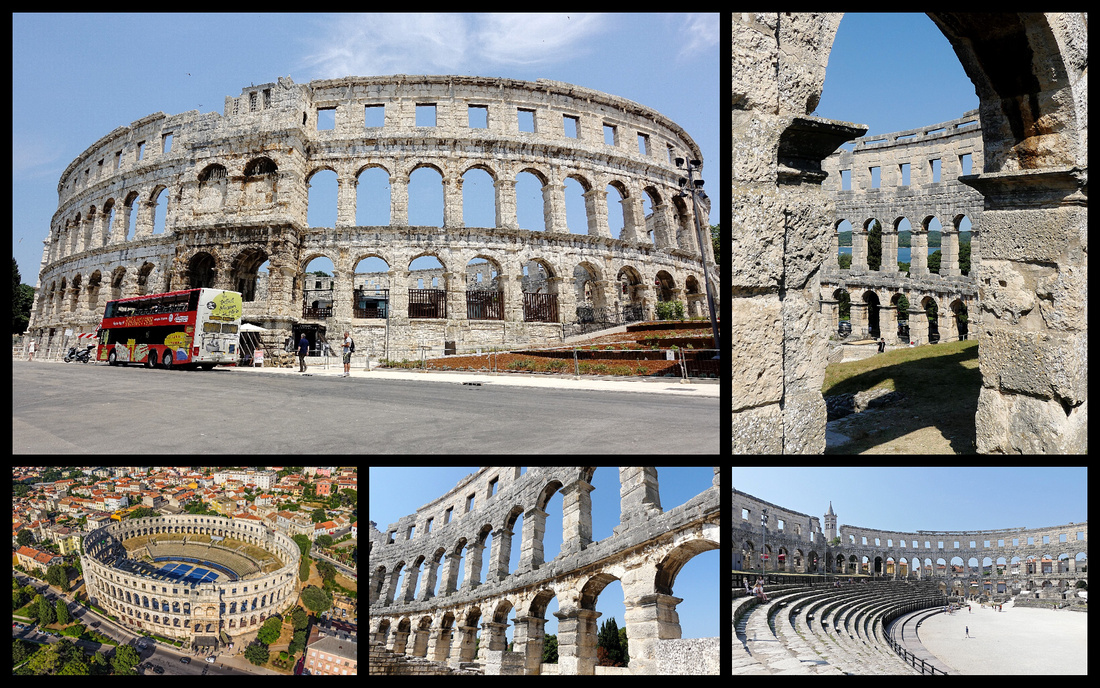 One day we took the bus to Pula. It's about a 45 minute bus ride through some olive groves and vineyards but mostly rural/suburban areas, with occasional glimpses of the sea. We spent about 5 hours there including a quick lunch.
PULA is a small city (population 59,000) and not terribly attractive, and the vistas of the sea are ruined by shipping cranes and industrial stuff. But the sites are definitely worth seeing, and the pedestrianized center is pleasant enough.
The Roman amphitheater is definitely the highlight. Built from local limestone it accommodated 20,000 spectators. The 30 Meter high outer wall is almost intact but the stone spectator seats were removed in the middle ages. You can still see the slabs used to secure the fabric canopy, which protected spectators from the sun. The underground chambers, once used to house the wild beasts and to drag away dead gladiators, now contain displays of amphorae and equipment used in the production of olive oil.
The other major attraction is the Temple of Augustus & Old Town Hall / Forum - 2 BC. with six Corinthian columns, a small but perfectly proportioned temple which survived the Christian era by being converted into a church. It was once one of a pair of matching temples fronting the Forum – but all that survives of its twin, the Temple of Diana, was incorporated into the rear wall of the 13th -C city hall (1296) next door, which is a mixture of styles including Romanesque and Renaissance.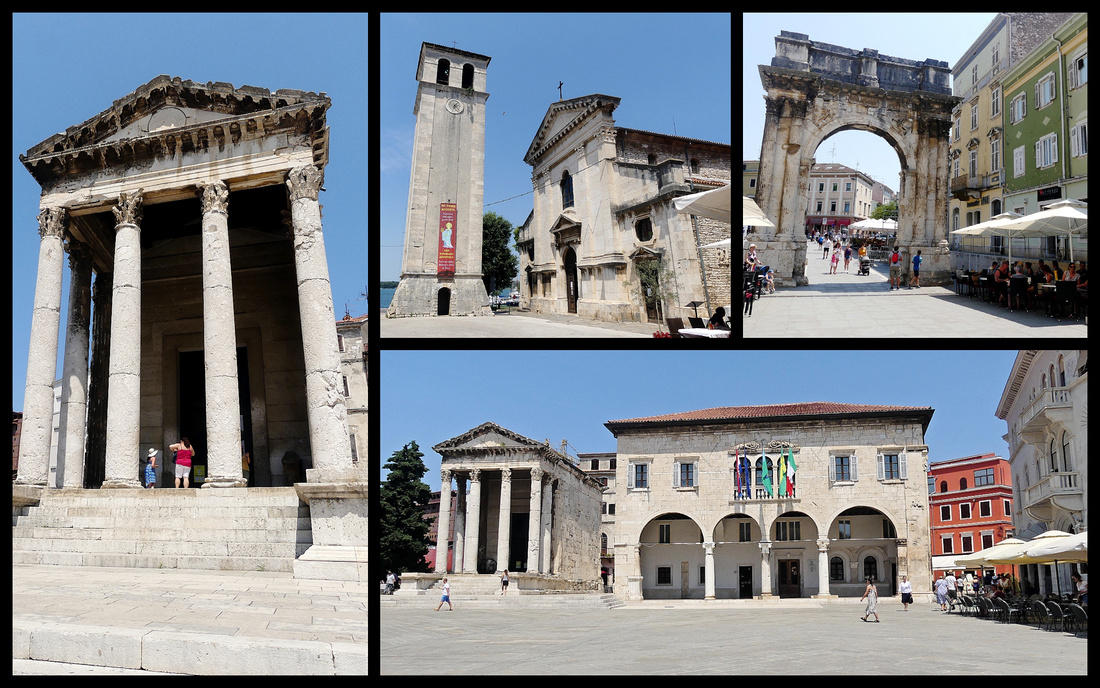 Above left: Temple of Augustus Top center: Katedrala Svete Marije Top right: Triumphal Arch of Sergius Lower right: Temple and town hall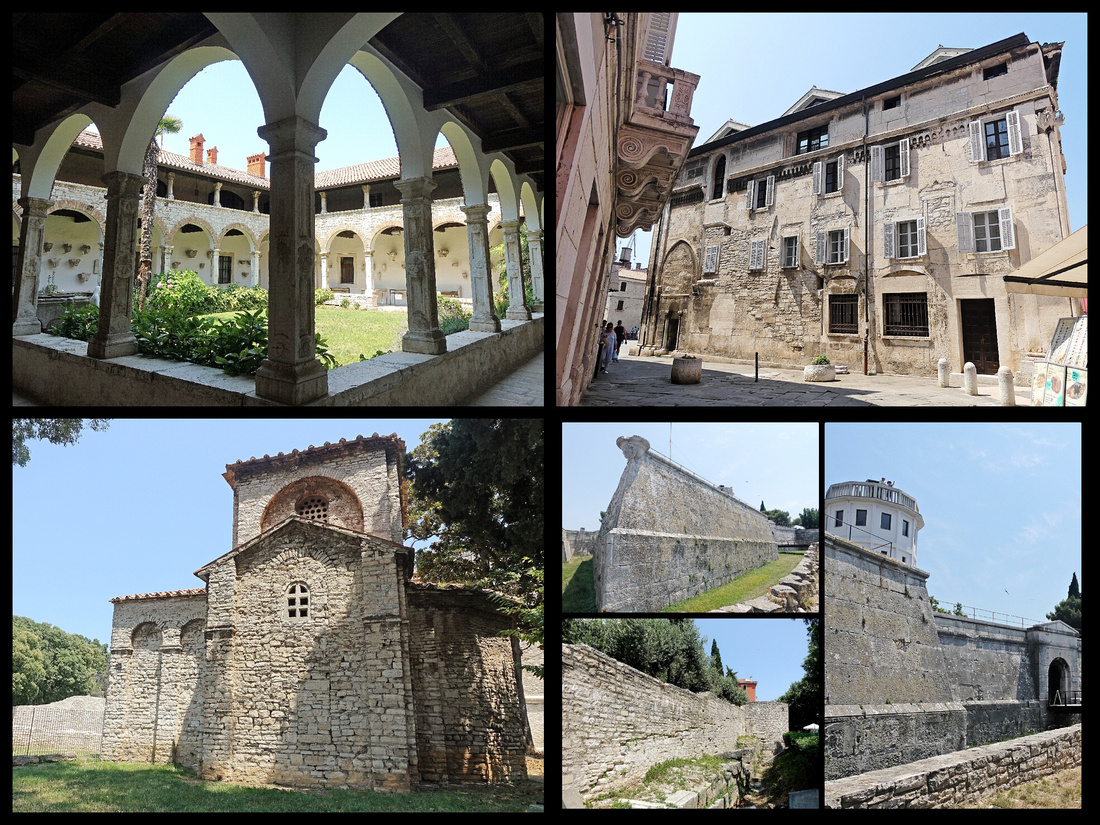 Above top left: Franciscan monastery top right: old town of Pula Lower left: Basilica Marija formoza Lower right: Citadel
The Citadel is a star-shaped Venetian fortress, with 4 bastions, built during the 17th Century. Highest point in town but the view is not great, and as Venetian fortresses go it's average at best.
Katedrala Svete Marije - 4th Century, added to until the 15th, Pula's cathedral still has fragments of 5th & 6th Century mosaics in its floor. The main altar is a Roman sarcophagus. In front of the cathedral is a freestanding Baroque style Bell Tower, late 17th Century from stone blocks taken from the Roman Amphitheater.
Franjevacki Samostan - Franciscan monastery, 1285, Set into the floor of a Gothic chamber accessed via the Romanesque cloister is a Roman mosaic featuring a hippocampus (fish-tailed horse) and a swastika.
Basilica of Marija Formoza - is one of the most significant Early Christian monuments of the Byzantine art and architecture in Croatia. 6th C. It was commissioned by Archbishop of Ravenna, who also had San Vitale erected, in Ravenna. A large portion of its inventory was shipped to Venice, where it was used in building the St. Mark's Library and the Doge's Palace.
Triumphal Arch of Sergius, also known as the Golden Gate (Zlatna vrata) erected in 27 BC. The outer side is lavishly ornamented with columns and friezes. It stood at the entrance to the Roman town, the walls of which can still be partly seen nearby
Above: Streets of Pula's old town center
POREC
Porec (population 17,000) is another easy day trip, via bus, from Rovinj. It's also on a little peninsula like Rovinj but has no hill so not quite as striking a profile and less 'charming' but very well kept, lots of flowers, totally pedestrian center. Some very nice Venetian buildings and one great "Roman" house. Also a few remnants of Roman columns. A nice 'riva' promenade all the way around the old town, unlike Rovinj where some of the waterfront is houses built right on the water (which makes for a better image from afar but not quite as interesting to walk around).
At the far end of the Decumanus street, very close to the Marafor square, is the Romanesque House, (above center) a two-story building, one of the few surviving examples of residential architecture of the Romanesque period. The house was built in the 13th Century but has been renovated and expanded multiple times, and the last major alterations were carried out probably in the 18th Century. Despite numerous interventions over time, the house has maintained the fundamental characteristics of Romanesque residential architecture. It is built from simple rough cut blocks. Window on the main facade is of a typical Romanesque biforium. On the ground floor, there was a barn, and a stone staircase leads to the first floor and the large room with a fireplace.
The main event, the UNESO listed 6th Century Episcopal Complex of the Euphrasian Basilica where Christianity was established as early as the 4th Century, constitutes the most complete surviving complex of its type. The basilica, atrium, baptistery and episcopal palace are outstanding examples of religious architecture, while the basilica itself combines classical and Byzantine elements in an exceptional manner. The glittering 6th Century mosaics in the apse of the church are the highlights.
ISTRIAN HILL TOWNS
On our fourth day we rented a car and spent the next two days visiting several hill towns on the Istrian Peninsula. We did Groznjan, Montovun and Opratalj one day and Hum, Draguc, and Gracisce the next, both days returning to Rovinj late afternoon for dinner, sunset and enjoying the town in the warm evening.
Guide books claim Istria is like "Tuscany 20 years ago before being spoiled by the tourists". It is lovely, some of the scenery is very pretty and there are several interesting, pretty hill towns. But the scenery is not as dramatic as Tuscany – think long vistas with vineyards and fields of sunflowers broken by curving roads lined with cypress trees and a stone house in the distance. Didn't see any of that. And while the hill towns do have charm, and pretty stone buildings on pretty stone streets, many of the Italian hill towns have more interesting buildings, piazzas, and settings – the 'bones' of a town need to be there to give it that certain something – although the atmosphere can certainly be lessened by groups of tourists and too many post card shops. The Istrian hill towns had virtually no post card shops.
The distances between towns in Istria are short and the roads good, but many of the little towns are not easy to get to from each other so it takes a lot longer than you might think. The Google maps app can be annoying and with "directions" turned on it seems almost worse than useless. But by just following the route to the destination (little blue ball showing where you are) it does help. We found the first town, Groznyan with no trouble, parking was free and easy – lots of spaces along the approach road (and a small lot at the top).
Grožnjan , population 736, is certainly charming, all honey colored stone – the streets and the buildings. There are a few stores with local crafts/ jewelry and several with olive oil and truffle products. Not the absolute best hill town but it's up there. Quite small though and not many tourists, usually just a few on each street.
In the 1950's Grožnjan was almost a ghost town when a group of artists decided to renovate the houses and started to live in the town. Today most of inhabitants are artists and there are almost 200 of them. But obviously the town is almost entirely given over to tourists. No tour groups. We had walked every street in about an hour.
We got a little lost looking for the next town, Montovun, (I'm actually blaming that on google maps, in this case it would have been better just following the signs). The approach road there is very new and widened – we suspected for tour buses - and there were indeed at least a couple. First thing you come to is a fairly large parking lot that seemed to be filling up quickly. There is a booth across the street to pay (20 krona) and right next to it a booth to buy shuttle bus tickets (another 20 krona per person) to avoid the 20-minute up hill walk.
Montovun , population 983, looks like the quintessential hill town as you approach with a wall and a bell tower and houses spilling down the hillside. It also has a more interesting history – Roman and medieval – and is surrounded by ramparts which you can pay to walk on although you can get the views without paying. There is an impressive entrance gate, then another smaller one. A large watch/bell tower that is impressive but not open to climb. Several restaurants.
And one long nice street with no shops or restaurants. Lots more tourists here, though nothing you could call crowded, but they all remained by the gates and restaurants because walking down (and I do mean down) the one long street we only saw a couple people (and some cats). We had lunch at one of the restaurants by the main gate – fabulous views of the surrounding valley and river and hills on the other side.
Almost directly across the valley from Montovun is Opratalj, which gets almost no tourists at all. It's a very narrow winding road, takes 20 minutes to go 6km but it was worth it. One small parking lot (about 20 spaces, only 4 cars in it) and then a short flat walk to the main 'feature', a pink Venetian style loggia. Very nice, great views of vineyards and olive groves. Then a rather nice yellow gate into the town.
Opratalj , population 850, is mostly still in ruins, only a very few buildings have been restored and are lived in. About 3 or 4 small shops (only one was open). But very atmospheric, the whole place. Loved it. We talked to the woman in the one shop – she makes all the crafts and takes photos which she makes into post cards. I bought two cards for 25 krona and she said it was her first sale of the day (it was 4 pm). She said volunteers of townspeople are slowly cleaning up the ruins and she actually left her shop (open) to show us a path to what once was a street with houses – you could still see wall paintings in what were once buildings but are now ruins.
HUM The road to Hum, population 30, though paved, is as narrow as a driveway and takes about 20 minutes to drive from the highway. We didn't see another car the whole time till just before the town. But they do expect tourists, there is a guy manning a booth as you enter the town collecting 10 kona, then you park wherever. There were about 4 other cars there. We did see a significant sized 'lot' and a sign for tour buses so they must get them at times. The day we were there however there were literally less than a dozen other tourists (2 couples, 2 families with a couple kids). It's cute enough but if it weren't in the Guinness Book of World Records for "World's smallest town" no one would bother cause there are plenty of other towns just as cute. There were three shops selling truffle related items (cheese, oils, beer) –which also had nice body oils and lotions, Istrian brandy, and a few local crafts. My husband, who is a beer snob and samples beer everywhere he goes, could not even drink the truffle beer, it was so bad.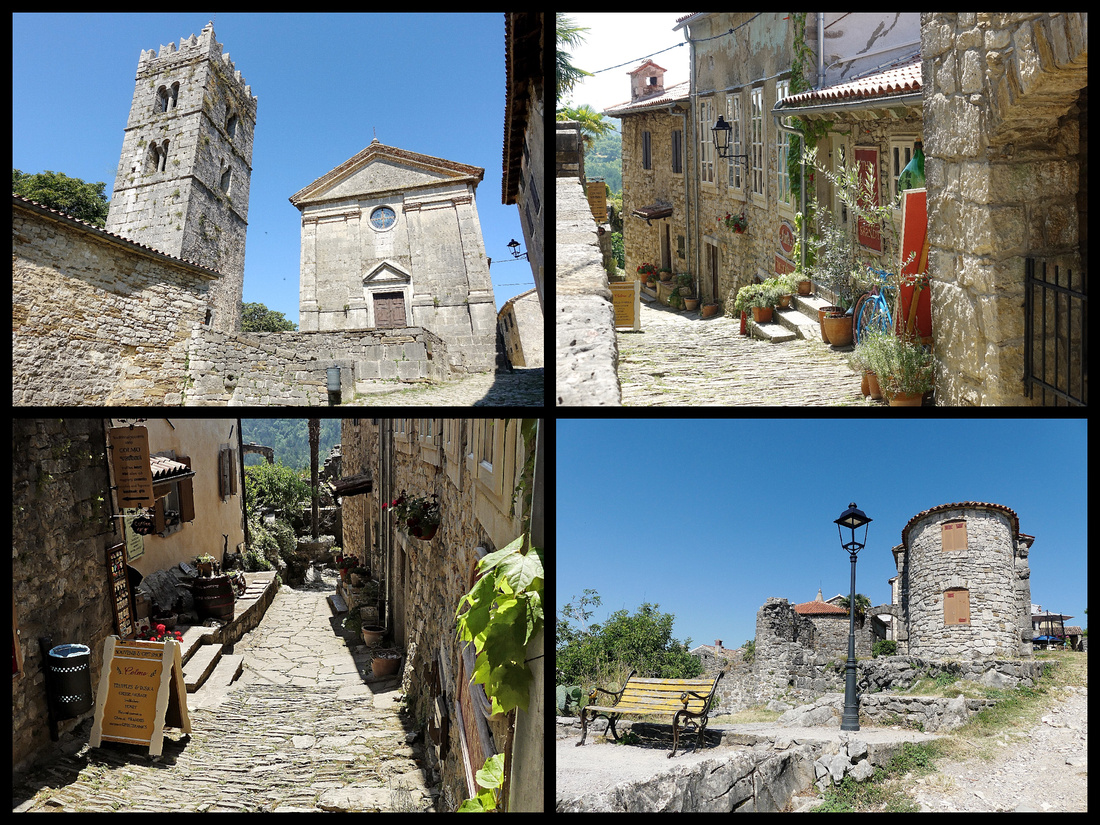 DRAGUC Then on to Draguc, full time population 68 – back to the highway, one exit (10 minutes) and then another 15 minutes up a slightly wider road than the road to Hum. Draguc is also moderately cute but wouldn't be worth the effort except that one tiny chapel, at the far end of town (meaning a 5 minute walk from where you enter) has amazing frescoes covering the walls and ceilings. I had read about this in a trip report somewhere, if you didn't know about it you'd never find it. The church was locked but there were windows with just iron bars so you could look inside. If I didn't have a good camera to get shots of it though I wouldn't have been able to really see good enough to appreciate it. The photos came out pretty good.
Then another ½ hour (the map app on the phone turned out to be very useful here, not sure we could have done it with paper maps and signs alone) on to Gračišće, population 1384. This was the least interesting of the towns we visited. There is one nice loggia and a few charming buildings but the pavement in the whole town is new and the streets fairly wide and the charm is just not there. There are some great views in the distance though.
Most of these towns have an interesting mix of recently renovated and almost entirely 'in ruins' buildings. Clearly the Istrian hill-towns are just 'waking up'. There weren't even 2% the number of tourists there are in Tuscan hill towns in July. In that respect it's great. There was no sign that any of the towns other than Montovun and Hum have ever seen a tour group. But the ambiance, the architecture, the scenery – none of it is Tuscan quality and never will be. So of course you could say this area is more 'authentic' – the few tourist shops are run by locals selling only local products, they aren't overrun by tourists. But while certainly very pleasant, the 'bones' of the place – the towns, the buildings, the vistas – just doesn't really compete with Tuscany. One thing I did notice was there was great lavender in all the towns, including Rovinj.
PLITVICE LAKES
Plitvice Lakes National Park UNESCO World Heritage Site– Beautiful, glad I went, but sorry to say it did not live up to our expectations. Perhaps the problem is that the reviews were so wonderful it was hard to live up to. Or maybe they were all written by people living in Kansas or Houston who have never seen a wooded area with lakes and waterfalls. Some of the water was a very nice shade of turquoise but a lot of it was just 'normal lake dark greenish'. There are a lot of waterfalls, most of them quite small but a few taller ones. The fact that there are so many, that they link together a lot of small lakes and ponds (and one medium size lake) and the boardwalks connecting it all are certainly nice. It was very pleasant. But words like amazing, extraordinary, and incredible were not words I'd use to describe it. Everything was back lit in the afternoon (we got there at 3:30) and there were a lot of clouds around so it wasn't sunny the whole time (but certainly wasn't a 'cloudy day' either). It's better in the morning light – the color of the water is probably the best thing and that is better early in the day.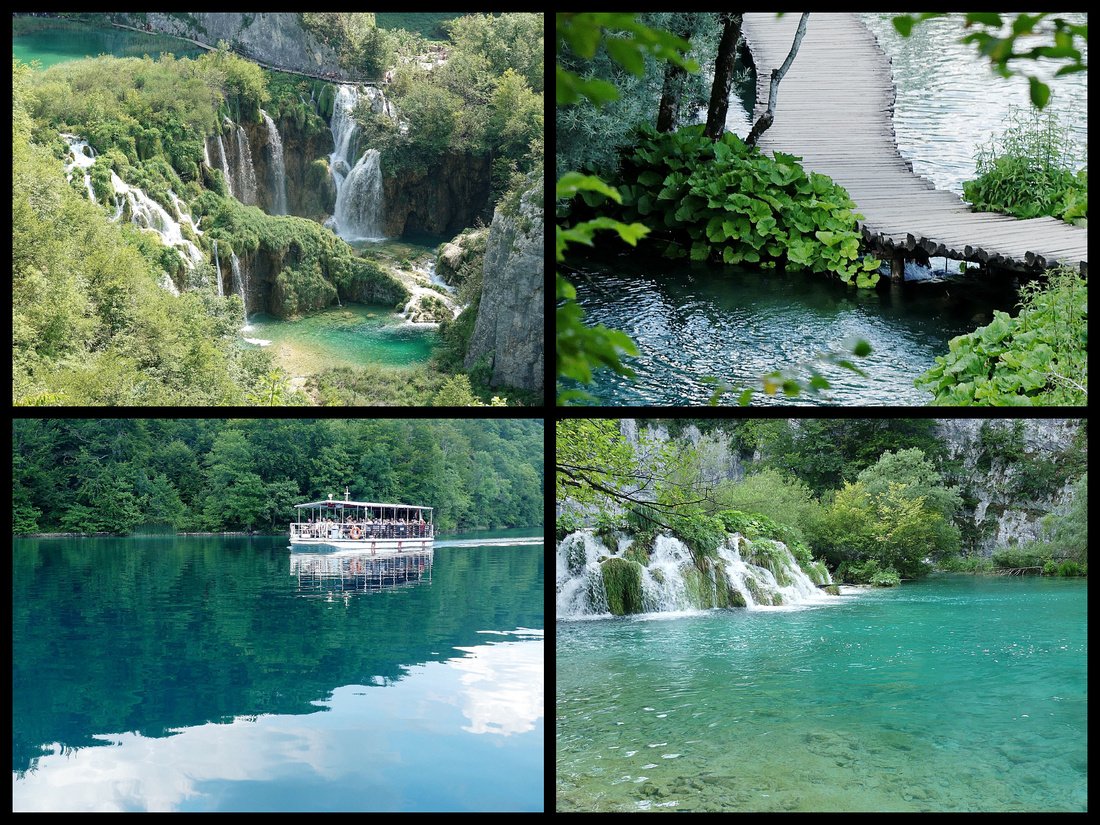 Signage is terrible. Only after you've done it does the map make any sense. One entrance the trails are lettered (A, B, etc.) and the other entrance they are numbered. Very few signs on the trails. You just kind of go. We started at Entrance 1 and in about 45 minutes got to the boat which goes across the big lake. Pleasant but unspectacular 20 minute ride. Then you need to take another boat across a much shorter part of the lake (5 minutes) to start the next section of trail. That one loops around back to the boat to return to Entrance 2, or keeps going and there is a shuttle train you can take to get back. Of course you can walk along paths much further but to see most of the water falls you follow the 'popular' trails that mostly use boardwalks and some woodland paths.
The good news is that I would hardly call it crowded (a Saturday and Sunday in July). Certain portions of the boardwalks did have people taking selfies or photos of their friends and being inconsiderate of others, and of course some people are just oblivious to others around them and insisted on walking two across. The boardwalk is barely wide enough for one person in each direction to pass without someone being forced to take a swim. But much of the time we were alone on a stretch.
Starting this summer (2019) they had on-line timed reservations and implied that if you did not have one it was likely you wouldn't be able to enter. That might be true mid day or on certain days, but when we got there for our 16:00 reserved entrance (price is reduced after 4 pm, and we had read it's much less crowded then) people were certainly just showing up without tickets and were able to buy them on the spot. Even though there was hardly anyone on line to enter, we had to wait till exactly 4pm before they let us in.
If you stay in one of the three 'official' hotels you can get your ticket stamped to go back in the following day for free. We stayed at Hotel Bellevue, great location right near Entrance 2, free parking (and they drove us to Entrance 1 which we had inadvertently booked entrance for - you must enter at the specific entrance you have a ticket for). Booking.com, 82€ night/double. Hotel Bellevue is right out of the 1970s and while it hasn't been updated since, it was clean and comfortable enough. Lots of tour groups staying there. There are not a lot of food options - the hotel next to the Bellevue has an expensive restaurant that serves dinner, both entrances have hamburger type food, and the road leading to Split has several places to eat about 20 minutes away.
ZADAR
Zadar, population 75,000, is surrounded by industrial sprawl but the old center is on a peninsula (rectangular instead of oval like the others) and has a lot of very interesting 'stuff'. Venetian walls and town gates, Romanesque and Byzantine churches, Roman columns and ruins, a modern 'sea organ' and a device that soaks up the sun and then plays lights at night, several interesting churches. It was heavily damaged in WW II and the post war buildings are mixed in among the old buildings so architecturally it's not an 'ensemble' type town, even in the heart of the old town, but it's pleasant enough and the 'sights' are very worthwhile with a nice vibe.
We only spent one night - so about 24 hours - in Zadar which I felt was just about right. I'm glad I had more than a few hour stop over, but I felt after 24 hours I had seen all I wanted to. We stayed at 'Hotel Zara Palace' (booking.com, €72 night/double). It's not exactly a hotel, and it's definitely not a palace, it's a few rooms, but they are very nice, newly renovated and comfortable. And just off the main square. No reception desk but texting with the host he was there to greet us and give us the keys.
Zadar's walls were originally built to keep out the invading forces from Turkey, and it successfully did its job, allowing the city to maintain its independence, with the walls never being breached. They are now a UNESCO world heritage site. There are still several of the original gates into the old town through the walls. The most impressive is the 'Port Gate' (Llucka vrata) fashioned from a Roman triumphal arch into a Renaissance grand entrance topped with a Venetian Lion. It sits beside the little Fosa harbor. Just inside this gate is Five Wells Square, 16th Century, featuring five identical wells in a line. This square, like many place we saw on this trip, was featured in Game of Thrones.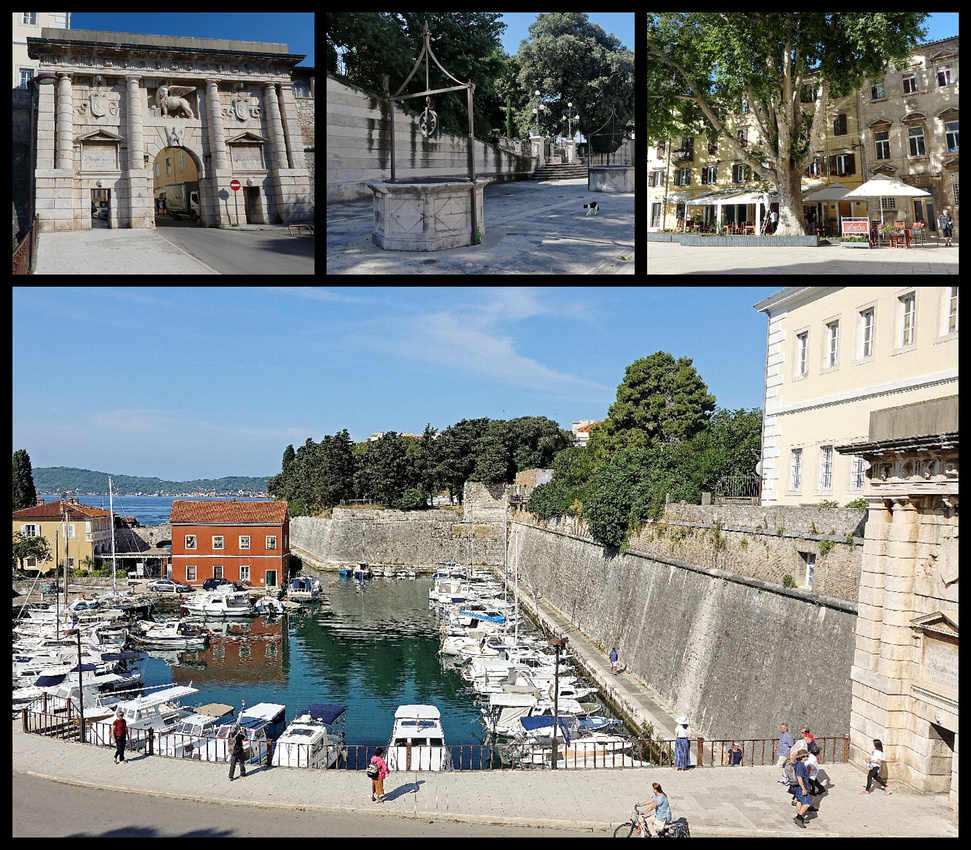 The Riva is a seaside promenade that encircles the old town peninsula and features two interesting things. The Sea Organ (Morske orgulue) (built in 2005) looks like a set of wide steps going down into the sea but is designed so that the action of the waves pushes water through them creating 'music' (sounded more like the 'song' of a sea creature than actual music). Just past that is the 'Greeting to the Sun/Pozdrav Suncu' a 22 meter diameter solar panel in the pavement that 'charges' during the day and spews colored light patterns after dark.
Above top right: The Sea Organ Lower right: Crkva svete Marije Lower left: "Greeting to the Sun'
The Church of St Donat/Crkva svetog Donata is a 9th century Byzantine round church with remnants of columns and other stone pieces the Romans left behind. The 3 story cavernous interior is beautiful. Just behind it is the bell tower of the Cathedral of St Anastasia/Katedrala svete Stosije, 12th Century Romanesque. Views from the top of the tower include the entire old town (where the Roman street plan is still very evident) and the top of St Donat.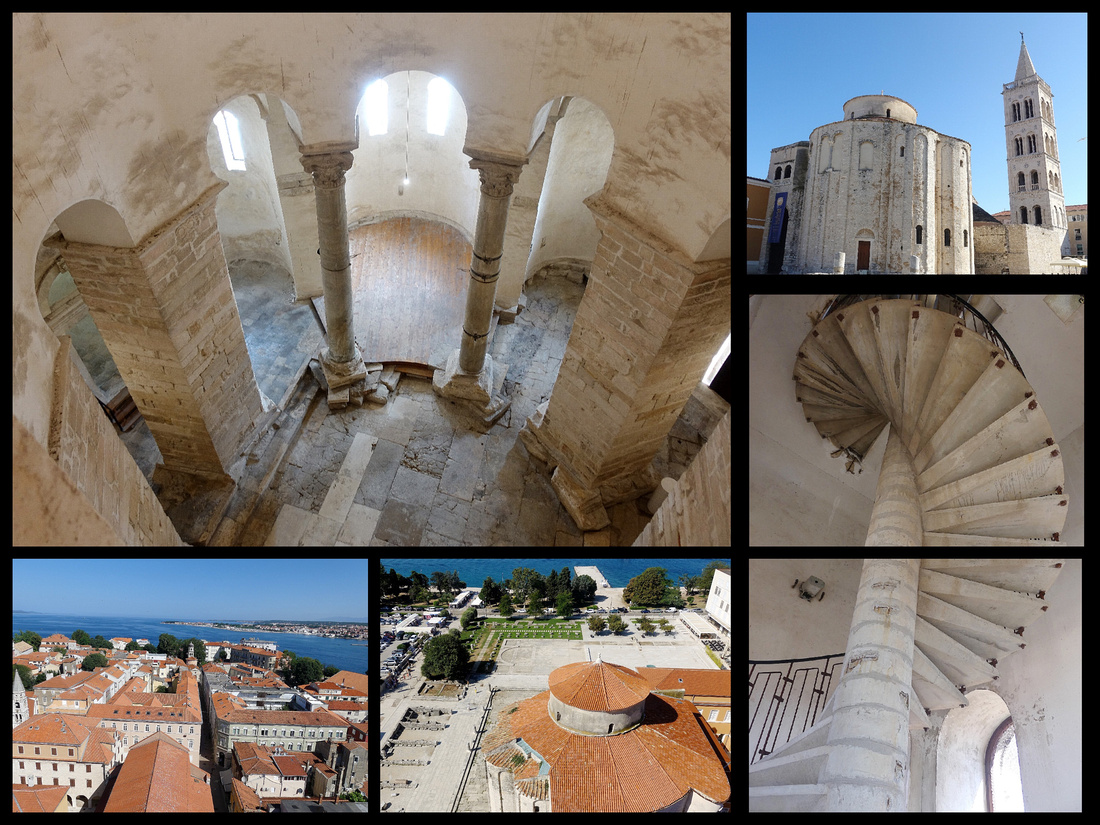 The main square, Narodni trg has been the center of public life in Zadar since the Renaissance. The 'City Guard' (Gradska straza) from 1562 is on the north side, the City Loggia (Gradska loza) on the south side is from the 13th century though rebuilt in 1565, and the Ghirardini Palace on the third side is Romanesque with a Gothic balcony.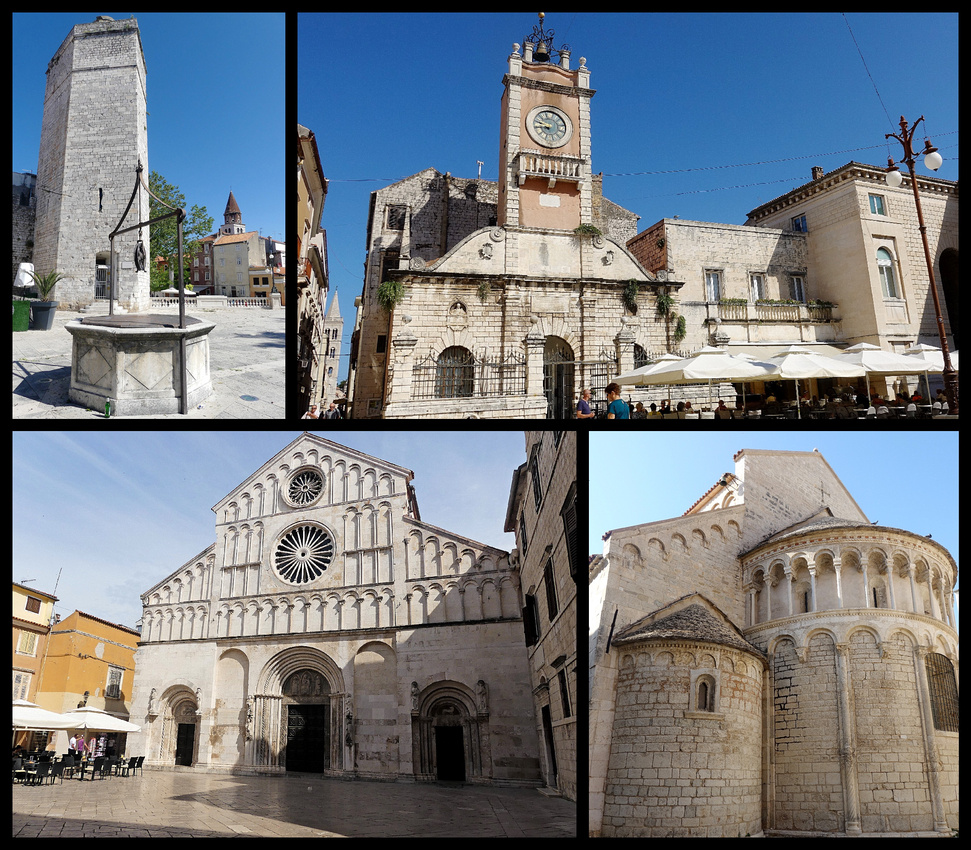 Above top left: Five Wells Square Top Right: Narodni Trg Lower left: Katedrala svete Stosije Lower right: St. Chrysogonus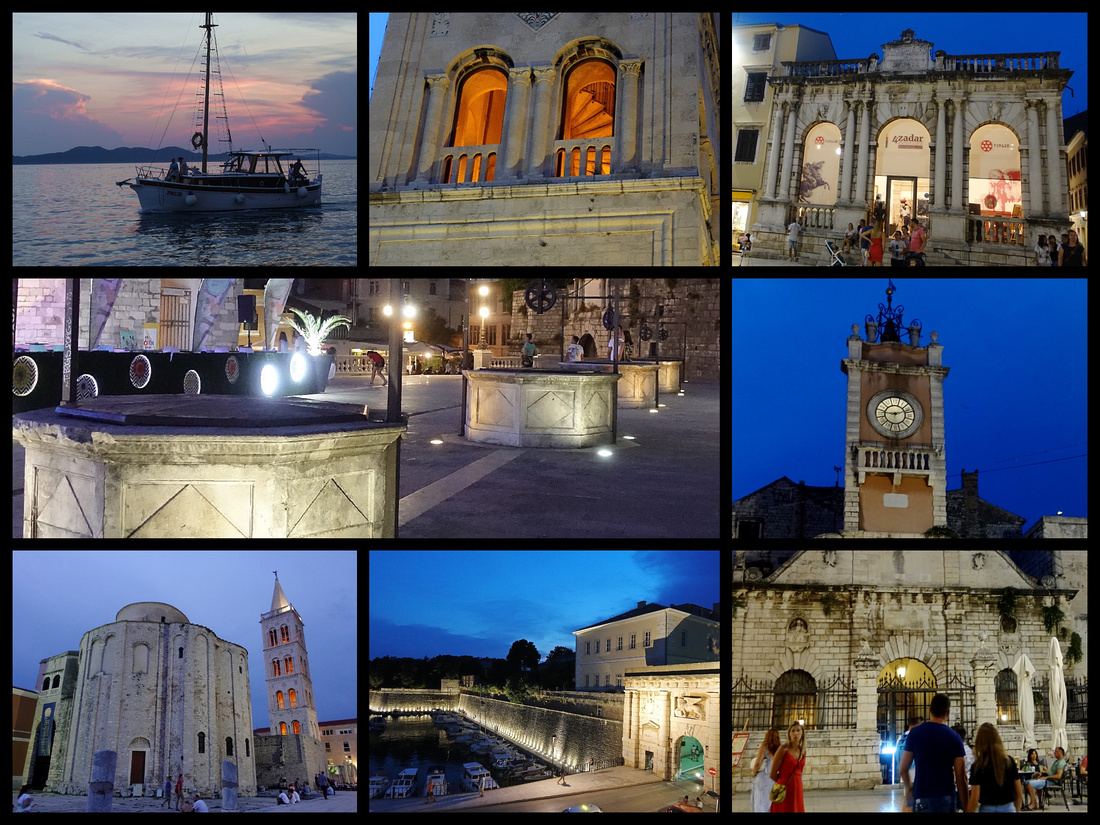 SIBENIK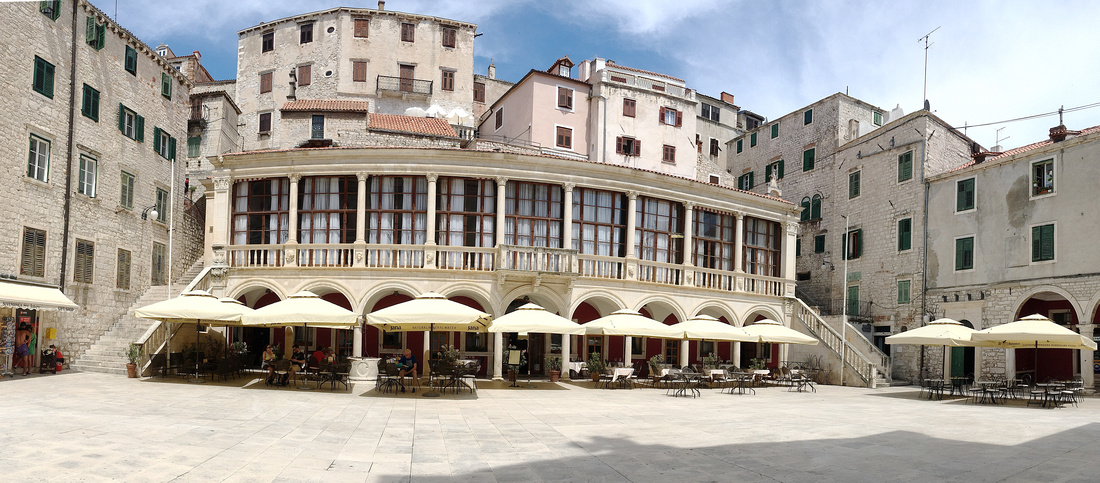 Šibenik is not one of those places that people mention when listing 'must see' destinations in Croatia. Mostly I'd heard about people stopping briefly to see the UNESCO listed cathedral when heading north from Split. But it made a convenient stop over between Zadar and Split and the photos I'd seen made me feel it might be worth it. So since expectations were not that high they were easily met and surpassed. While Šibenik doesn't quite rank up there with Split or Dubrovnik, I think it is just as impressive as the more popular towns of Trogir and Zadar.
We took a bus from Zadar, having dropped off the car when we arrived there. We had one night, so again, about 24 hours. And like Zadar, I felt that was just about right. I'm glad I saw it in the evening and the morning and had time to explore the town and not just see the Cathedral, but you don't really need more than 24 hours. We stayed at another "room" found on booking.com (€72 night/double). Almost impossible to find, even with google maps, but once we did it was very comfortable. Palace Rialto Rooms. An old building, right in the center of the old town, with a collection of several ensuite rooms. In this case we never saw the 'host', they texted us a code which was used to gain entry.
Šibenik, population 34,000, offers a change of pace from Dalmatia's strong Italianate influences since its origins are pure Croatian rather than Roman. Šibenik's old town is described as a typical Mediterranean medieval city, with a collection of churches, noble palaces, and centuries old Dalmatian stone houses separated by narrow alleyways. The old town is very well preserved and totally charming.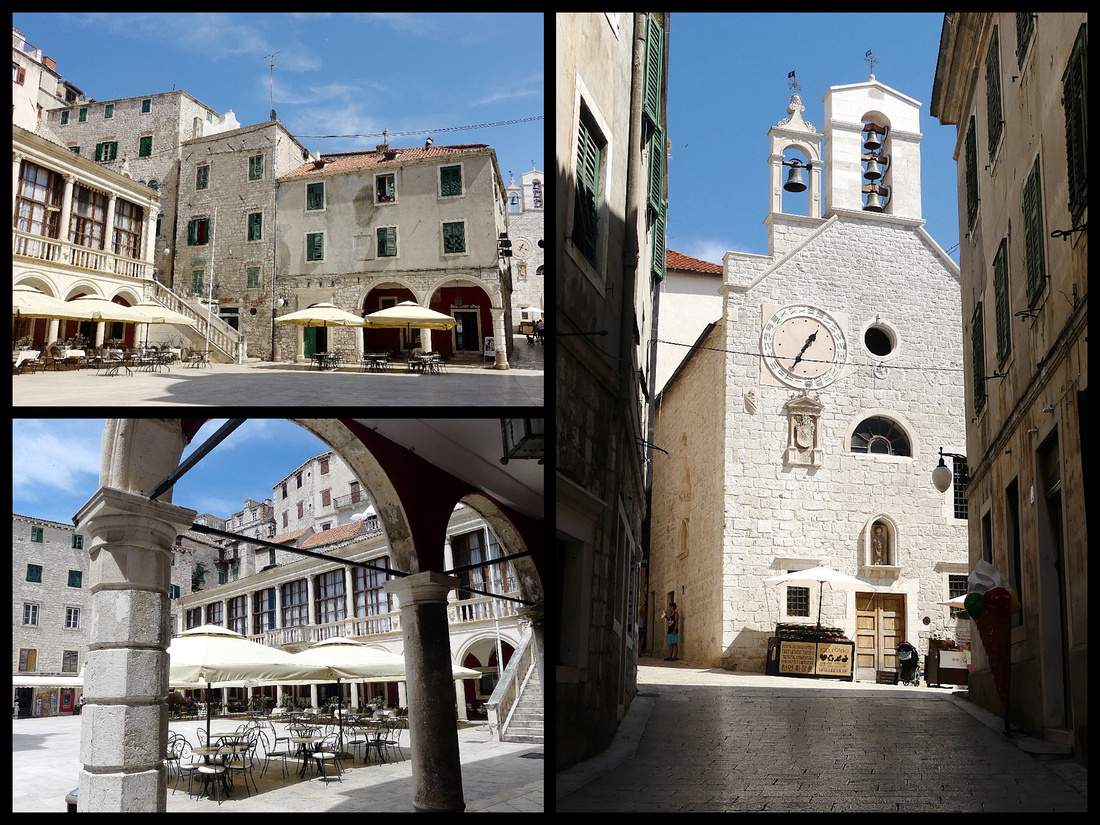 The old town is not very large but it's full of stone streets – narrow, winding and many stepped, lined with stone buildings. Many of the buildings have beautiful detailing, statues, plaques, stone carvings. Lots of tiny churches tucked away. Small squares all over the place. The waterfront has a nice wide riva with restaurants on one side, boats on the other.
But Šibenik is mostly known for the Cathedral of St. James (Katedrala Sv Jakova), a UNESCO World Heritage site built by the Venetians in the 15th and 16th centuries and is made entirely out of stone. In fact it is the only European cathedral constructed using only stone. The exterior of the cathedral is magnificent and the centerpiece of one of the most beautiful squares in Croatia. Across the square lies City Hall (Gradska vijecnica), a 16th century Renaissance building that looks like it was transplanted from Venice. Both the cathedral and the square were settings for Game of Thrones.
The other main 'sites' are the fortresses. There are actually 4 of them but a couple are a ways out of town. The main one, St Michael's, sits right above the old town and can be seen from below. Concerts are held there in summer so it's filled with modern seats. St Nichola's Fortress, a little out of town, is also a site of major importance, protecting the area from invasion after its construction in 1525 and is being listed as a UNESCO site along with the cathedral.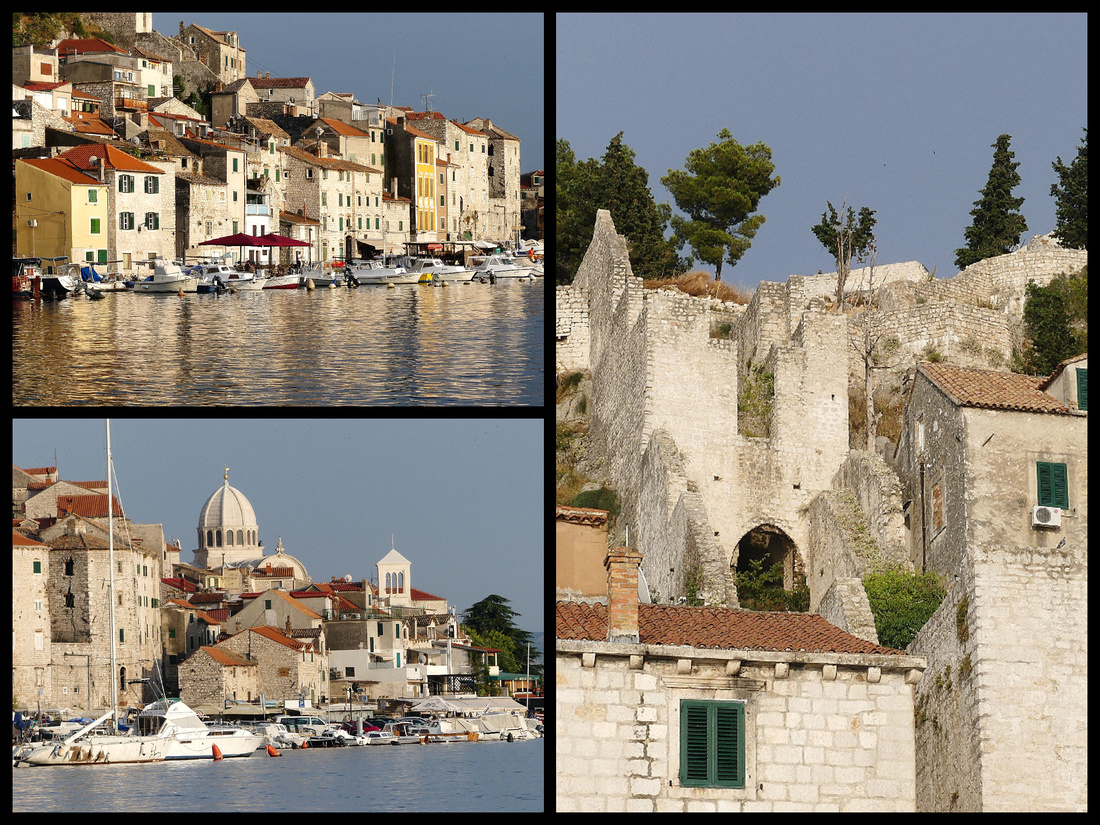 Past the main part of town, the riva becomes a tad shabby, the boats are just small fishing boats and 'local' pleasure craft. But continue far enough and around the bend and the view back to the town spilling down the hill from the fortress is amazing. Especially with the sun on it late in the day.
The only real negatives about both Zadar and, to a lesser extent, Sibenik (and probably the reason they aren't higher up on the 'tourist' trail) – is they haven't done a good job integrating the modern with the old. Within feet of the Roman Forum in Zadar or the UNESCO cathedral in Sibenik you see ugly 1950s style apartment buildings in not very good shape. You can walk around the old towns and find ugly buildings within steps of a church built over a thousand years ago. Makes the ambiance less than it could be. It seems a lot of other places in Europe have done a better job of preserving the 'flavor' of their town's historic centers (though most still have plenty of modern stores, businesses and living quarters). Sibenik's center if much better in this respect than Zadar's, but there is some of that along the water front in Sibenik as well. The outskirts of both towns are industrial sprawl.